Jeunesse Brings Hope To Children And Families In Irkaat, Kenya
September 8, 2016
By Team Business For Home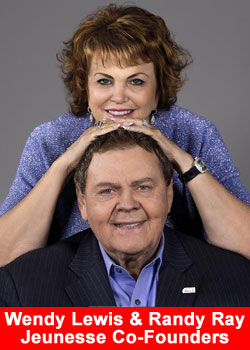 Jeunesse founders, executives and top Distributors made a memorable trek to Irkaat, Kenya to visit the village the company supports through We Charity (formerly known as Free The Children) and its We Village program.
The Bringing Hope 2016 cultural immersion and service trip took place July 20–27, providing the opportunity for company officials and Distributors to witness firsthand the life-changing impact their contributions are having on the village and its people and lend a hand through service projects in Irkaat and surrounding villages in the Maasai Mara of Kenya.
The trip of approximately 100 participants included We Charity Co-founder, Craig Kielburger; Jeunesse Founders Randy Ray (CEO) and Wendy Lewis (COO); Chief Visionary Officer, Scott Lewis and his wife, Isabel Lewis, along with corporate employees, Jeunesse Distributors and family members.
The company's support of the village began in 2015 through its Jeunesse Kids nonprofit foundation and has already resulted in the construction of a new school building and a vital clean water source — both of which are part of a comprehensive five-year sustainability plan encompassing education, clean water, health, food security and livelihood, providing community members with the education, skills and opportunity to lift themselves out of poverty.
"It is a tremendous honor to be aligned with Craig Kielburger and We Charity, and we are deeply grateful for the entire Jeunesse family around the world who have contributed to this important, life-changing cause.
We were humbled and honored by the incredibly warm welcome and time we were able to spend with the beautiful people of Irkaat. This was truly a life changing experience for all who attended, and just one of many to come," commented Jeunesse CVO, Scott Lewis.
Jeunesse also supports a village in Dao Lazui, China, which they visited last year.
About Jeunesse
Jeunesse is a global direct selling company with a mission to positively impact the world by helping people look and feel young, while empowering them to unleash their potential. The company's exclusive skin care and nutritional products form a comprehensive Youth Enhancement System.
With multilingual customer service, back office support and global enrollment system, Jeunesse utilizes a cutting-edge platform to share innovative products, training and support through 32 fully operational offices to markets in over 100 countries. Learn more at jeunesseglobal.com.