Jacky Wilson – Modere Achieves Canada's First Elite 1 Rank
October 26, 2016
By Team Business For Home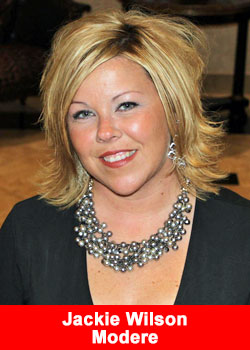 Jackie Wilson isn't just Elite 1; she is Modere's first Elite 1 in Canada.
In just a few short months, she's climbed from Director 1 to Elite 1 and it's her leadership that's helped to accelerate an up-and-coming Canadian market.
Jackie Wilson:
"Becoming Canada's first Elite Social Marketer means everything to me. From day one, I kept it in front of me every day. It was my laser focus for the longest time.
"I sat with my husband on New Year's Eve 2015 and I told him my goal for 2016 was to be Canada's first Elite Social Marketer. The fact that it happened is so crazy and amazing but it's very satisfying. It's become a total "pinch me" moment in my career."
Speaking to Jackie's newest achievement, Modere General Manager Justin Serra, said
"Jackie has an ability to approach and speak with friends, family, and complete strangers about Modere. She's quickly fallen in love with the culture and the products and it's contagious–she's cultivated a business where people are naturally drawn."
Jackie has been in the network marketing industry for years, but according to her has never seen this type of success and it couldn't have come at a better time.
"When I started, my husband's health had caused him to stop working. We didn't have a penny to our names. We were looking to others for help. Modere fell into my lap, but we couldn't afford the kit. My husband was furious with me, but I jumped in. It was a literal leap of faith. I told him I would pay the money back within a week.
"I not only repaid the money, but I made more than I borrowed. Since then, we've never looked back!"
Her husband was her inspiration and building such a successful team has helped the inspiration grow. Jackie says reaching Elite 1 wasn't just her doing. Her team, the mentorship she's received from her upline and the Modere staff have all been the different for her this time around.
"We have such a golden opportunity in this pre-launch stage here in Canada. Our products are awesome and the business model and compensation plan are unlike any other! When you put all these factors together, it's a recipe for success."
"Jackie has been a powerful advocate for all of Canada as we work to accelerate the growth in the market," said David Goodman, Director of Business Development. "She is an example of great leadership through her hard work, her example, and her limitless energy."
Even though she's reached Elite 1, Jackie's goals haven't changed.
"My goal still remains to grow this Canadian team and cultivate thousands of Elite Social Marketers across Canada. We're here to serve others (and each other) with authentic passion and heart. Things are moving forward, and we are just getting started!"
About Modere
Modere offers a category-leading portfolio of Live Clean lifestyle essentials beauty and personal care, health and wellness, and household products that are equal parts safe, high-performing, and beautifully designed.
At Modere, we create more than just products; we create meaningful experiences. We believe modern health involves Live Clean: pure nutrition, a clean environment, and safe ingredients across all products: consumable, topical and household.
Modere brings a holistic approach to well-being and its products reflect a commitment to excellence and innovation, with tested formulas proven around the globe for more than 25 years. Modere is headquartered in Springville, Utah and its Marketing Center of Excellence and Public Relations is located in Newport Beach, California. For more information please visit www.modere.com