Jeremy Roma – WOR(l)D Global Network Achieves Double President Rank
October 21, 2016
By Team Business For Home
Jeremy Roma caught a glimpse of what was possible in Network Marketing since the beginning in 1998 at 23 years old. He was sitting in an arena along with other 93,000 attendees at a Team Event when his quest began.
One of the best results WOR(l)D GN has ever witnessed is from none other than brand new Double President Jeremy Roma. A Double President brings in over $500,000 in revenue in just a week's period. Astonishingly, Jeremy Roma achieved this his first week.
His mission is to help 1000 families within his WOR(l)D Global Network team, earn an income of 6 to 7 figures a year has driven his journey and has led him to partner with World Global Network.
Through the leadership of Chad & Nattida Chong, the fastest Grand Presidents and top USA earners, USA has rapidly smashed the earnings charts and is now creating such a buzz and becoming the talk of the industry.
There is no doubt that their partnership with Jeremy has and will continue to attract more leadership.
"I'm so thankful and excited as well to be teaming up with my friends Chad and Nattida Chong. The combination of their genuine heart for people, their courage for what is possible, and their dedication to leading by example has helped set the stage for the momentum that is happening," Jeremy says.
"We have never seen anyone more passionate about helping people. And we have been blown away by his raw transparency and ability to lead with initiative. There is no doubt that we are beyond proud and humbled to be working with such a talented leader," expresses Chad & Nattida.
"When I met the CEO of WGN, Fabio Galdi, and heard his vision for this industry and saw his courage for innovative technology, I knew I found what I've been preparing for. I realized that my dream of empowering 1000 families to earn a residual 6 to 7 figure income was audacious, and it would require partnering with a CEO and a Company with an even bigger dream than my own.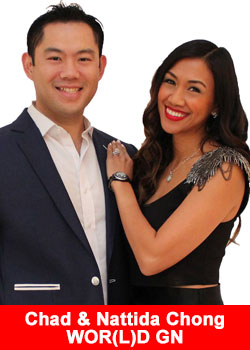 Combined with the timing of wearable technology and the integration of health and wellness within that technology, I knew this was something special.
The sweet spot in this industry as I've seen it, is to offer a unique value proposition within an already existing market and emerging trend. Amway tapped into the emerging trend of soap during the "Soap Opera" era, offering a unique value proposition that has made them a true empire company 50 years later.
Mary Kay has makeup. A.L. Williams was life insurance. Herbalife with nutrition. The list goes on and on. I believe that WGN is tapping into the greatest market of this era, and that market is technology. And it's not a hunch, the numbers that we've seen already are telling the same story."
Jeremy has embraced the vision of WOR(l)D and has transformed all the words of WGN's CEO into direct action, smashing records with his huge organization in USA.
And this is just the beginning. The perfect mix of this highly motivated person, professionalization and passion, together with innovative technology of WOR(l)D, are going to change the field of Network Marketing for the years to come.
About WOR(l)D GN
WOR(l)D also referred to as World GN is a global multi million dollar company that offers services in the telecommunications, renewable energy, technology and mobile Telecommunication. With 15 offices Worldwide, along with their numerous awards won recently, WOR(l)D is recognized as one of the most prestigious opportunities in the industry.
Its current headquarters is in the United States with its major offices in the United States, Singapore, India, China, Russia, Ireland, Dubai, Tunisia, Brazil, Turkey, Thailand, Vietnam, Columbia, Paraguay, and Hong Kong. For more information please visit www.worldgn.com