My Daily Choice And Brain Abundance Team Up
October 5, 2016
By Team Business For Home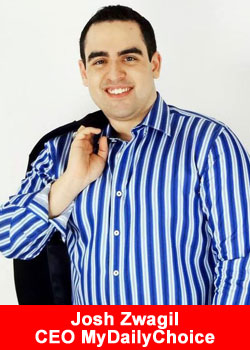 While many companies have come and gone over the last two years, My Daily Choice has quietly become one of the steadiest growing companies in the industry.
With sales in over 100 countries around the world, a line of the most advanced and innovative spray nutritional products on the market, one of the strongest compensation plans we've ever seen, and a brilliant young energetic founder and CEO committed to the success of his affiliates, the buzz has been spreading with My Daily Choice.
And now with the merger of another top-performing company with products unmatched anywhere in the industry, MDC has a lot to be excited about.
My Daily Choice is all about innovation, creativity, and giving our affiliates more opportunity than any other company in the industry, states CEO Josh Zwagil.
When Brain Abundance launched the first and only brain supplement designed specifically for kids, in a healthy, delicious, gummy bear that not only tastes ridiculously good, but also gets life-changing results, I knew this product was going be a huge seller and help a lot of families. The only problem was, we didn't have it.
Few people in this industry can make things happen the way Josh Zwagil can. And he does it in such a creative, positive, enthusiastic way to ensure the benefit of everyone on both sides. Speaking with people who have done business with Zwagil, the consensus is that in an industry with so much hype and craziness, he is one of the smartest, most generous, and sincere people you will ever meet…and he works harder than anyone to make things happen for his people.
And that's exactly the kind of person it took to make this merger happen. After Brain Abundance went through some personnel changes on the corporate level, they struggled to find a CEO who could take care of it's affiliates and run the company to be the powerhouse it was meant to be, especially with such once-in-a-lifetime products.
Knowing of Zwagil's success and servant leadership reputation for helping others, along with the multiple phone calls they received from Zwagil who was excited to figure out a way to work together, the timing was perfect for the two companies to merge.
There are a lot of things to be proud of and excited about. This for me is one of the most exciting in my network marketing career. Not only do My Daily Choice affiliates now have the exciting opportunity to bring Brain Bears to the world, but Brain Abundance IBO's now have an entirely new line of products they they can market with our amazing nutritional sprays, says Zwagil.
It's a win/win for everyone involved, and I couldn't be more excited for the future of all of our affiliates.
With the momentum My Daily Choice has had over the past several months, and now bringing in a product that quite possibly could outsell all of their other products combined, My Daily Choice is poised for major growth.
The most amazing part of it all is the window of opportunity is wide open. They are definitely the company to watch. And we believe the people who join them now will be some of the top earners in the industry in the next few years.
About My Daily Choice
My Daily Choice is a two year old, 100% debt free company with shipping and distribution centers around the world. We are 100% committed to providing our independent business owners and customers the most attractive and highest quality product lines within the top trending industries. Our mission, at MyDailyChoice, is to bless the lives of thousands of families across the globe with good health, life-changing income and freedom by empowering people with smart daily choices.
We are not just a one product company, one industry company, or one ingredient company like most other companies…our "Daily" brand will ascend us into the top industries in the world with the most unique combination of products and services to dominate the marketplace. Everyone has a different definition of success but by becoming a MyDailyChoice affiliate, success is a choice!
To learn more, to order Brain Bears or any of their life-changing products, or to get started as an affiliate, visit their website at www.mydailychoice.com or contact an affiliate.