Reza Mokhtarian CEO Kaizen Global Charged With Fraud In Canada
October 1, 2016
By Team Business For Home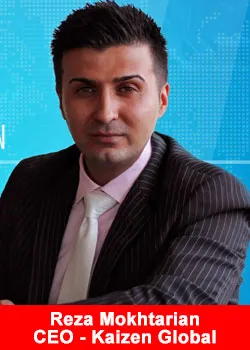 Reza Mokhtarian is CEO and founder of Kaizen Global – a Forex education opportunity with a network marketing compensation plan.
The Ontario Securities Commission (OSC) announced today that Reza Mokhatarian of King City, Ontario has been charged with an alleged breach of the Criminal Code following an investigation by the OSC's Joint Serious Offences Team (JSOT).
Mokhtarian has been charged with one count of fraud against the public over $5000, contrary to section 380(1)(a) of the Criminal Code.
The OSC alleges that Mokhatarian committed this offence between the dates of July 1, 2013 and December 31, 2015.
Mokhtarian is scheduled to appear in court on this matter on October 26, 2016, at 9:00 am in Courtroom #111, Old City Hall, 60 Queen Street West, Toronto, Ontario.
JSOT was established by the OSC as an enforcement partnership between the OSC, the Royal Canadian Mounted Police Financial Crime program and the Ontario Provincial Police Anti-Rackets Branch. The primary objective of JSOT is to protect investors and further enhance confidence in the Canadian capital markets through effective enforcement. This is accomplished through collaborative investigations of serious violations of the law using the provisions of the Securities Act or the Criminal Code.
The mandate of the OSC is to provide protection to investors from unfair, improper or fraudulent practices and to foster fair and efficient capital markets and confidence in the capital markets. Investors are urged to check the registration of any persons or company offering an investment opportunity and to review the OSC investor materials available at https://www.osc.gov.on.ca