USANA Q3 Sales Up 9% To $254 Million
October 26, 2016
By Team Business For Home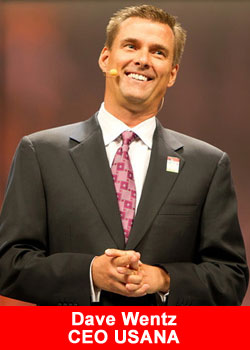 USANA Health Sciences, Inc. (NYSE: USNA) today announced financial results for its fiscal third quarter ended October 1, 2016.
Net sales for the third quarter of 2016 increased by 9.0% to $254.2 million, compared with $233.3 million in the prior-year period, but came in below the Company's expectations due to softer-than-anticipated sales in the Greater China region.
The increase in net sales is attributed to a 12.6% increase in the number of active Associates and a 5.6% increase in the number of Preferred Customers. The continued strength of the U.S. dollar negatively impacted net sales during the quarter by $5.7 million.
Net earnings for the third quarter of 2016 increased to $30.1 million, an increase of 17.5% compared to $25.6 million in the prior-year period. The increase in net earnings was due primarily to a meaningfully lower effective tax rate, as well as higher net sales, which were partially offset by higher operating expenses during the quarter.
The significant decrease in the effective tax rate for the third quarter is due to the Company's early adoption of ASU 2016-09 (Topic 718) – Improvements to Employee Share-Based Payment Accounting.
As a result of USANA's adoption of this standard, on a year-over-year basis, the Company recognized (i) modestly higher equity compensation expense, (ii) a higher diluted share count, and (iii) a meaningfully lower effective tax rate for the current-year quarter due to the recognition of excess tax benefits on the income statement pursuant to this standard (excess tax benefits were previously recognized as an adjustment to equity). For the third quarter, the Company's adoption of this standard increased net earnings by approximately $6.5 million, or $0.50 on a diluted per share basis.
Earnings per diluted share for the third quarter increased by 25.0% to $2.40, compared with $1.92 in the prior year period. The increase in earnings per share was the result of the adoption of the previously noted accounting standard as well as a lower number of diluted shares outstanding due to the Company's share repurchases over the last 12 months. Weighted average diluted shares outstanding were 12.5 million as of the end of the third quarter of 2016, compared with 13.3 million in the prior-year period.
The Company's balance sheet remains strong with $134.5 million in cash and cash equivalents. As of October 1, 2016, the Company also had $35.4 million remaining under its current share repurchase authorization.
"While USANA posted another quarter of solid growth and achievements, our topline results in the Greater China region came in below our expectations and impacted our overall results," said Dave Wentz, USANA's Co-CEO.
"Our top priorities for 2016 continue to be completing the transition to our state-of-the-art production facility in Beijing and enhancing our information technology infrastructure around the world. These improvements are essential to allow USANA to continue providing the highest level of customer service and to provide the foundation for future growth.
Our focus on these objectives, however, has taken precedence over short-term initiatives to drive sales growth around the world in 2016 and also affected our momentum in China during the quarter. I am pleased to report, however, that during the quarter we received all of the necessary permits to begin production in our new China facility and we now anticipate that the facility will be fully operational by the end of the year. With this facility coming online, we are making preparations to begin offering growth initiatives in China in early 2017, but continue to believe that we will be in a better position to fully drive growth in China and our other markets when the improvements to our IT infrastructure are complete."
"Despite these growing pains, during the quarter we introduced one of the greatest product innovations in USANA's history with the launch of our Incelligence™ product platform at our International Convention in August," continued Mr. Wentz. "Incelligence™ is USANA's proprietary, patent-pending technology that is designed to support your body's natural ability to nourish, protect and renew itself. As part of our Incelligence™ platform, we also launched our new flagship multivitamin, CellSentials™, at convention.
These launches, and our convention in general, were a huge success. We set new records for sales and attendance at our convention and our 2017 event has already sold out. Incelligence™ is being launched in our various markets around the world and is a key part of our growth strategy."
About USANA
USANA develops and manufactures high-quality nutritional supplements, healthy foods and personal care products that are sold directly to Associates and Preferred Customers throughout the United States, Canada, Australia, New Zealand, Hong Kong, China, Japan, Taiwan, South Korea, Singapore, Mexico, Malaysia, the Philippines, the Netherlands, the United Kingdom, Thailand, France, Belgium, Colombia and Indonesia.
More information on USANA can be found at https://www.usanahealthsciences.com.