Víos Nutrition Appoints Jared Barber As Director of Business Development
October 23, 2016
By Team Business For Home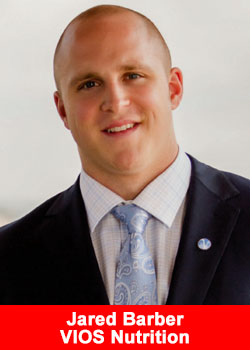 Víos Nutrition is expanding its winning team! Víos Nutrition, a leading nutrition supplement company based in Winston-Salem, N.C., today announced it has added Jared Barber as the company's new Director of Business Development.
This new position was created specifically for Barber. In his new role as Director of Business Development for Víos, Barber will help to drive the company's growth by supporting emerging markets across the country through training and supporting the company's highly-trained, independent Brand Partners.
He will also develop training programs designed to communicate, educate and motivate the company's Brand Partners. Additionally, Barber is responsible for identifying and evaluating opportunities to further penetrate the health and wellness market with his background in sports, fitness and winning at a high level.
Barber is a native of Mocksville, N.C., and a graduate of West Virginia University, where he received a B.S. in Multidisciplinary Studies. During his time at West Virginia, he was a standout middle linebacker and four-year starter for the Mountaineers, helping to lead them to victories in the 2012 Orange Bowl and the 2016 Cactus Bowl.
Barber received high honors for his work ethic, ability to overcome adversity, and his determination to be a winner. Upon graduation, he enjoyed a short playing career with the Carolina Panthers, where he progressed form an undrafted rookie free-agent to earning an NFL contract. Ultimately, Barber was signed to the team's 90-man roster for training camp and appeared in three preseason games.
"Víos is thrilled to add someone to our team with the work ethic and strength of character of Jared," said Brock Agee, co-founder of Víos.
"Jared comes to Víos with the same dedication, leadership, and passion to win that he used during his athletic career. In addition, he knows what it takes to be a part of a winning team, which is what we're building here at Víos.
We look forward to his contributions for many years to come, and I can't wait to see how he helps take Víos to the next level!"
For more information on Víos and its products, please visit www.Víoslife.com.
About Víos Nutrition
Víos Nutrition develops whole food, plant-based nutrition supplements designed to give customers more of the natural essentials their bodies need, when they need them. Based in Winston-Salem, N.C., Víos Nutrition provides the highest quality products to our customers in convenient, single-serve packets to give them the healthy nutrition they need, when they need it.
Marketed and sold exclusively through the company's independent Brand Partners, Víos Nutrition products contain certified organic ingredients, and are gluten-free and non GMO. For more information, please visit www.Víoslife.com.