Buyezee Appoints Antony Spear As COO
November 8, 2016
By Team Business For Home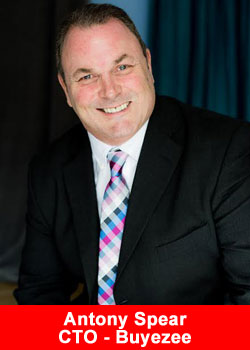 Buyezee announced today that Antony Spear has been named as their COO with immediate effect to assist their CEO Daniela Claudia Szasz as the Buyezee enter their momentum phase of rapid expansion.
Antony has been with Buyezee since their inception over 3 years ago working as their CTO, developing their product range prior to their official announcement of Pre-Launch in March of 2016.
The growth Buyezee has been experiencing has been staggering and the need for a COO with a strong passion and in-depth knowledge of the Buyezee business model is now essential to meet the demands of a growth business.
Antony's previous position of CTO will now be filled by Chris MacDonald, who also has worked with the Buyezee team and very closely with Antony since inception as their CWO.
Antony Spear commented:
I am delighted with my promotion to Chief Operating Officer and further supporting the Buyezee business model. I have been working very closely with our CEO over the past months and I am both proud and excited to be involved at a more strategic level with our global expansion
My replacement of CTO is incredibly well versed in the Buyezee Technology developments as we have both worked together since the beginning – I wish Chris enormous success in his new role and i am sure that he will continue with his brilliant work and develop his team to meet our expansion requirements.
Daniela Claudia Szasz, Buyezee CEO added,
I am looking forward to work with both Antony and Chris in their new roles of COO and CTO, the synergy and camaraderie that is in our team is incredible, as the corporate team expands to support our business plan, I feel that it is essential, where possible, to promote from within the ranks in recognition of their excellent performance and loyalty
About Buyezee
A global provider of fully serviced eCommerce shops that can empower individuals and companies alike to immediately brand, promote and profit from the Multi Trillion Dollar marketplace with little or no previous knowledge or experience.
BUYEZEE's innovative eCommerce products are marketed person-to-person by independent Shopreneurs on a global basis.
From its conception, BUYEZEE™ have chosen and consulted the most competent people available, thus ensuring that no beta testing is carried out at the expense of the network. Much time, money, planning and resources has been invested into product development to make this a powerful and leading global opportunity.
More Information can be obtained from their corporate website: www.buyezee.net