WorldVenture Convention Host 12,000 Participants In Las Vegas
November 3, 2016
By Team Business For Home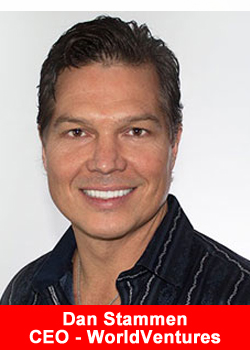 One of the most celebrated athletes in sports history, Shaquille O'Neal, made an appearance as DJ Diesel at A View from the Edge, a personal development and sales training event for WorldVentures™ Representatives.
The View was Oct. 28-30 at the Thomas & Mack Center in Las Vegas, Nevada, with nearly 12,000 participants in attendance.
O'Neal appeared on stage in the training event October 30, and gave a highly energetic performance as DJ Diesel. He also appeared at a uniquely created DreamTrip in his name at the Mandarin Oriental hotel to meet some of WorldVentures' DreamTrips™ Members. O'Neal is a National Basketball Association superstar with a career that spans nearly two decades.
In that time, he has earned many honors, including NBA Most Valuable Player, NBA Rookie of the Year, four NBA Championships and 15 All-NBA Team recognitions. With more than 18 million social media fans, O'Neal has ascended to the status of pop-culture icon, appearing in numerous films, television programs and commercial endorsements.
Along with O'Neal's appearance, there were plenty of exciting activities, announcements and presentations throughout the weekend.
One of the key announcements was the beta test launch of the new flye smart card, created by NXT-ID, Inc. (NASDAQ:NXTD) exclusively for WorldVentures' DreamTrips Members, currently numbered at more than 500,000 worldwide and growing.
The smart card is intended to allow Members to load up to 10 credit cards, loyalty cards, identity cards, and other data; use as a payment method in the same way as a credit card, where accepted; and, earn reward points at select restaurants worldwide that can be used towards DreamTrips vacations.
Shaq O'Neal, Wayne Nugent, Founder and CVO of WorldVentures, and his son, Zach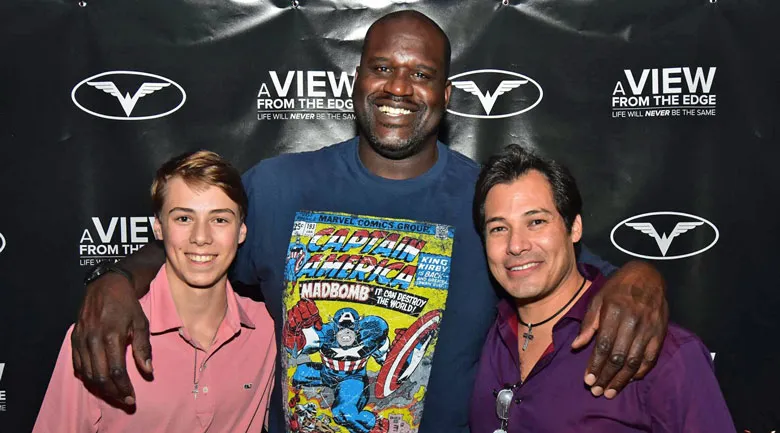 On Friday, WorldVentures Foundation™ hosted a volunteer day with the Boys & Girls Clubs of Southern Nevada, Donald W. Reynolds Clubhouse. Volunteers joined nearly 400 area children at an exciting Halloween carnival, complete with games, a cookout, a haunted house and much more.
The foundation also hosted its annual auction with plenty of premium items, including tickets to the 2017 CMT Music Awards and exclusive access to one of the after-parties. The auction funds will support the foundation's mission to create positive change for children worldwide. Since 2014, the auction has raised US$250,000 for the foundation's service allies across the globe. This year, the foundation exceeded their goal of raising US$100,000 with volunteer help.
About WorldVentures
WorldVentures is a privately held company based in Plano, Texas, that sells travel and lifestyle community memberships providing a diverse set of products and experiences. The company's goal is to help Independent Representatives, DreamTrips Members and employees achieve more fun, freedom and fulfillment in their lives. WorldVentures uses the direct-sales model to go to market with active Representatives and Members in 29 markets. For more information, visit www.worldventures.com.
About WorldVentures Foundation
The WorldVentures Foundation is a 501(c)(3) organization with a mission to create positive change in the lives of children all over the world. Since 2010, the foundation has supported sustainable programs that promote children's health, happiness, safety and development. Represented by the Heart to Serve logo and tagline, the mission is accomplished through four main ways: VolunTours, Volunteer Days, Dream Courts™ and fundraising. Learn more at www.worldventuresfoundation.org.
About Nxt-ID, Inc.
Nxt-ID, Inc.is a security technology Company providing security for finance, assets and healthcare. The Company's innovative MobileBio® solution mitigates risks associated with mobile computing, m-commerce and smart OS-enabled devices. With extensive experience in biometric identity verification, security and privacy, encryption and data protection, payments, miniaturization and sensor technologies, the Company partners with industry leading companies to provide solutions for modern payment and the Internet of Things (IoT) applications.
The Company's wholly owned subsidiary, LogicMark, LLC, manufactures and distributes nonmonitored and monitored personal emergency response systems (PERS) sold through the United States Department of Veterans Affairs (VA), healthcare durable medical equipment dealers and distributors and monitored security dealers and distributors.