Buyezee 25,000 Shopping Websites Launched Forecasts Exceptional Growth In 2017
December 31, 2016
By Team Business For Home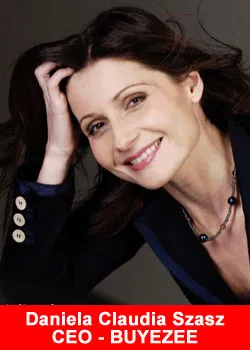 In the past 11 months since Buyezee announced to the press of their E-Commerce focussed business concept, they have continued to innovate and expand on their initial business plan.
Over 25,000 Shopping Websites have been launched using their unique, "Plug n Play" pre-populated shopping, advertising and software platform, which has helped thousands businesses and individuals to "cash in" on the continued global growth in B2C Shopping, Travel Bookings, Local deals and Digital Advertising.
The feedback and suggestions from their customer base has led to many upgrades and enhancements to their platform, with their latest and probably most exciting feature being launched early 2017, which will empower business of all sizes to participate on the Global Market with the marketing power of the Buyezee Network to drive customers to their products and services.
Buyezee has already announced meetings, webinars and specialist events in Europe, Asia and the Middle East to further expand their Shopreneur, Shop Owner and Customer base.
Daniela Claudia Szasz, Buyezee – CEO, commented:
2016 has been a fantastic year for Buyezee. We have received a great response to our unique business model and have seen some amazing results in earnings, producing our first 6 figure monthly income earner and many 5 figure monthly income earners.

I believe that 2017 we are going to see incredible growth as many of the improvements and enhancements we have made will start to be fully promoted.
Antony Spear, Buyezee – COO, added:
Buyezee is no longer a concept – it is now a proven business model. Our success to date has now created our template for expansion to the masses, which will see Buyezee rapidly become a major player in the Direct Sales and E-Commerce marketplace.

2017 will see our network of websites increase to six figures – which will greatly increase our opportunities for all concerned.
ABOUT BUYEZEE:
A global provider of fully serviced eCommerce shops that can empower individuals and companies alike to immediately brand, promote and profit from the Multi Trillion Dollar marketplace with little or no previous knowledge or experience.
BUYEZEE's innovative eCommerce products are marketed person-to-person by independent Shopreneurs on a global basis.
From its conception, BUYEZEE™ have chosen and consulted the most competent people available, thus ensuring that no beta testing is carried out at the expense of the network. Much time, money, planning and resources has been invested into product development to make this a powerful and leading global opportunity.
More Information can be obtained from our corporate website: www.buyezee.net