ForeverGreen Appoints New General Counsel And CIO
December 20, 2016
By Nicole Dunkley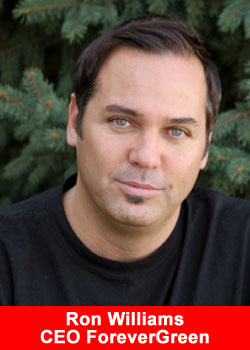 ForeverGreen Worldwide Corporation, a leading direct marketing company and provider of health-centered products, announced today the appointments of Shane Manwaring as General Counsel and Dan Eastman as CIO.
Manwaring most recently served as Vice President of Legal of ForeverGreen. With his years of meticulous and expert work, Manwaring is naturally the best decision to be named as ForeverGreen's General Counsel. He brings ForeverGreen more than nine years of legal experience on both a domestic and international level, with seven years' experience in the Direct Selling industry.
Manwaring received his juris doctor from William Mitchell College of Law in St. Paul, Minnesota. He is a licensed attorney in both Idaho and Utah. Manwaring commented, "I am pleased to continue supporting ForeverGreen and its members around the world. The opportunities and challenges that come from the global business model are what make this an exciting company to be involved in."
Eastman moves into his new role as CIO with multiple years of experience in information technology, project management and direct selling for several large companies, most recently as VP of Information Technology of ForeverGreen. He holds multiple project management and IT certifications including certification in Six Sigma.
He is a very skilled and creative problem solver, coming up with new solutions to meet emerging demands and to improve Member platforms to give ForeverGreen's valued Members the best tools to grow their business. Eastman commented, "What intrigues me most about ForeverGreen are the unique challenges that come with doing business and having customers in over 200 countries across the world, I look forward to serving our members in this new capacity."
CEO and Founder Ron Williams commented, "Shane Manwaring has earned the role of General Counsel. His knowledge, versatility and commitment to ForeverGreen will continue to ensure not only the protection of ForeverGreen but all efforts made in the areas of compliance. Additionally, I'm happy to see the promotion of Dan Eastman to CIO. In the years that he has been with ForeverGreen we have seen our IT development stabilize while successfully capturing business communities all around the world."
About ForeverGreen
ForeverGreen Worldwide Corporation develops, manufactures and distributes an expansive line of all natural whole foods and products to North America, Australia, Europe, Asia, Africa and South America, including their new global Xpress offering Prodigy-5. Additional products include PowerStrips, SolarStrips and BeautyStrips.
They also offer their North America weight-management line Ketopia, along with FrequenSea, a whole-food beverage with industry exclusive marine phytoplankton, immune support and weight management products, and Pulse-8 powdered L-arginine formula. For more information on ForeverGreen's products, visit www.forevergreen.org.