Meet Zija Natural Health Revolution Founder: Krysten Tarnuzzer
December 30, 2016
By Nicole Dunkley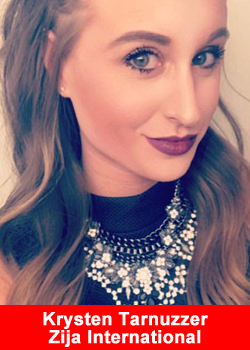 Zija International recently launched their Natural Health Revolution Founder program at their 10-Year Anniversary Event in September.
The company has been focusing on the importance of embracing the Natural Health Revolution—an encouragement to naturally nourish, naturally improve our performance, and naturally restore the body.
To celebrate those who are committed to living and sharing this revolution, the company decided to commence the Natural Health Revolution Founder Program.
Those who qualify to be a Natural Health Revolution Founder have put in hard work and dedication in spreading the movement. Qualifiers earn a special Founder pin, certificate, bonus, and other exciting perks that are to be announced in early 2017!
Hear from Krysten Tarnuzzer, one of Zija's Natural Health Revolution Founders, on why the Natural Health Revolution is so important and how Zija International is helping her live Life Unlimited:
"I began taking Zija's products about a year ago when my mom joined Zija International. My boyfriend got involved with the company as well and as a result I started learning a lot more about Zija through connection calls. I became more and more passionate about the products and company the more I learned.
I opened up my own salon in April and the experience really took me out of my comfort zone, but it has also given me a sense of empowerment. It was the perfect time to get started with Zija. It's a company that has the same passions I do—a desire for health and wellness and a belief that beauty really comes from the inside out.
However, my Zija journey really began after I left the Bronze Success Trip (a training event for qualifying Distributors). It really got me motivated and gave me valuable training. It instilled the company in my heart and helped drive my passion of Zija. I left the Bronze Success Trip wanting to help others with their health, their personal development, and their financial freedom. I wanted others to understand what I had found.
When I give people advice on how to become a Natural Health Revolution Founder or how to build their business, I simply tell them to speak from their heart! Don't try to "get" anyone, really try to HELP people! Sincerely hear what they want in life and show them how Zija can help them.
Make building your business selfless, not selfish. You could get 10 people telling you no and the 11th could tell you yes! Don't let the 10 deniers stop or discourage you, because the 11th that says yes believes in you, believes in the product, and wants to join you on your Zija journey.
The Natural Health Revolution is important to me because it has the potential to make our world a healthier place! The lack of nutrition, stress, and unhappiness in the world is driving me to share the Natural Health Revolution. I know that it can help people feel better physically, enable them to be happier and healthier, and can have a positive effect on so many aspects of their lives. Plus, Zija makes it very easy to spread the Natural Health Revolution. They give so many resources for Distributors to use. Our team atmosphere is incredible, from our Upline support to corporate staff, the Life Unlimited Mobile App, one of the smartest scientists backing their products, and so much more; the company truly does everything to benefit others.
Life Unlimited to me is a lot of different things. It's feeling good, being healthy, not having to worry about financial stresses, having my future kids grow up with the right nutrition, to travel the world, and to help others. Life Unlimited is EVERYTHING that is stress free, healthy living, and Zija helps me achieve that!"
ABOUT ZIJA INTERNATIONAL
Zija International, a privately-held and privately-funded business founded by Kenneth E. Brailsford and led by Ryan Palmer, develops natural health, wellness, and beauty products. The company operates in more than 50 countries worldwide, pioneering the #NaturalHealthRevolution to help individuals achieve Life Unlimited.
Zija has seen consistent growth every year since it was founded over 9 years ago and has received several awards, including and being named the Fastest-Growing Company in Utah by Utah Business Magazine. It has also been recognized on fastest-growing and top-revenue lists by Inc. Magazine, Direct Selling News and Utah Valley Magazine, and has received industry-specific MarComm, American Business (Stevies), and Davey Awards.
With corporate offices located in Lehi and more than 4 million sq. ft. of state-of-the-art warehouse, shipping and manufacturing facilities located in Utah, United States, Zija International employs more than 200 individuals and has the capacity to grow to more than two billion dollars in annual sales.