Nu Skin CEO Truman Hunt Will Step Down – Ritch Wood Appointed
December 8, 2016
By Team Business For Home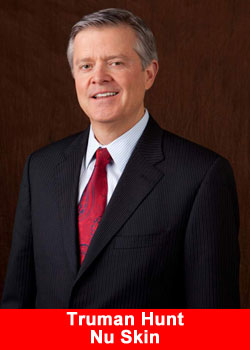 Nu Skin Enterprises (NYSE:NUS) today announced a senior management transition plan.
Truman Hunt, who has served as the company's president and chief executive officer since 2003, has accepted a three-year leadership assignment for The Church of Jesus Christ of Latter-day Saints beginning in mid-2017.
The Nu Skin Board of Directors has announced that Ritch Wood will become the company's chief executive officer upon Hunt's departure, and Ryan Napierski will become the company's president. The company expects to name a successor to Wood as chief financial officer prior to his becoming chief executive officer.
Truman has established a tremendous legacy at Nu Skin that we will continue to build upon going forward, said Steven J. Lund, chairman of the board. Through Truman's leadership and vision, Nu Skin has achieved extraordinary success and is extremely well positioned for the future. We are grateful for Truman's contributions and dedication to Nu Skin.
Ritch and Ryan have been key leaders at Nu Skin for many years and have been deeply involved in establishing our strategic vision for the future, Lund continued. We are pleased to enjoy significant experience in our management team and are confident that Ritch and Ryan are well prepared to lead our next wave of growth.
Wood was appointed Nu Skin's chief financial officer and a member of the company's executive management committee in November of 2002, and previously served in various global leadership capacities at the company. Wood worked for the accounting firm of Grant Thornton prior to joining Nu Skin Enterprises in 1993. He earned bachelor's and master's degrees in accounting from Brigham Young University and in 2010 was named CFO of the Year by Utah Business magazine.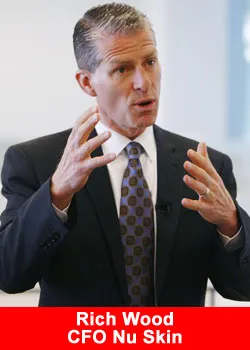 Napierski currently serves as president of global sales and operations and has more than 20 years of experience at the company. Prior to his current appointment, he served as president of Nu Skin's North Asia region and president of Nu Skin Japan. He has fulfilled multiple leadership positions for Nu Skin since joining the company in 1995. Napierski has a bachelor's degree in business, a master's degree in business administration from Duke University, and a master's degree in international business from Goethe Universitat in Germany.
It has been a privilege to serve as chief executive officer for such an extraordinary company and to work with some of the finest people in the world, said Hunt. My association with our remarkable sales leaders and fellow employees has been the highlight of my career. Together, we have been able to carry out the Nu Skin mission of being a force for good in the world. I have worked closely with Ritch and Ryan for a number of years and have the utmost confidence in their ability to lead Nu Skin going forward.
About Nu Skin Enterprises, Inc.
Founded more than 30 years ago, Nu Skin Enterprises, Inc. develops and distributes innovative consumer products, offering a comprehensive line of premium-quality beauty and wellness solutions in more than 50 markets worldwide. The company builds upon its scientific expertise in both skin care and nutrition to continually develop innovative product brands that include the Nu Skin® personal care brand, the Pharmanex® nutrition brand, and most recently, the ageLOC® anti-aging brand.
Since its introduction in 2008, the ageLOC brand has generated more than $5 billion in sales, and built a loyal following for such products as the ageLOC Youth nutritional supplement, the ageLOC Me® customized skin care system, as well as the ageLOC TR90® weight management and body shaping system. Nu Skin sells its products through a global network of sales leaders.
As a long-standing member of direct selling associations globally, Nu Skin is committed to the industry's consumer guidelines that protect and support those who sell and purchase its products through the direct selling channel. Nu Skin is also traded on the New York Stock Exchange under the symbol NUS. More information is available at nuskin.com.