Wachiramet Nitiwataekthada Achieves Success With Wor(l)d Global Network
December 10, 2016
By Team Business For Home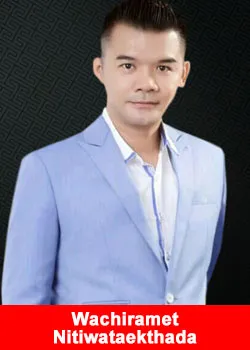 With his extensive experience as a professional networker for 18 years, after joining Wor(l)d for the first week Wachiramet Nitiwataekthada achieved the rank of DIAMOND with an income of USD $4,000 in that week and now turned Thailand's second President Millionaire at Wor(l)d.
"I believe in my uplines, Global Master Distributors Nat and Chanida Puranaputra. I also believe in Mr. Fabio Galdi, Wor(l)d's CEO. His vision is clear. I believe in Wor(l)d's innovative technological products."
"Wor(l)d is a company that gives opportunity and income. Three keywords for Wor(l)d business: FAST, SIMPLE, and POWERFUL. Wor(l)d is the most powerful company on this globe!"
He also stressed an important key of this business is to "Duplicate". He wishes the people all over the world would receive this Wor(l)d business opportunity and earn optimum income, bringing people towards better life. "I want to see everyone happy in their lives with Wor(l)d as the means to happiness!"
About WOR(l)D Network.
With an Headquarter in MIAMI, USA, WOR(l)D stands apart as a leader in the global markets of media, mobile and wearable technologies. In the 15 offices distrbuited in all the continents, WOR(l)D is employing the brightest minds and best professionals, constantly investing in great ideas and highly motivated people.
Every WOR(l)D product reflects its passion for research, innovation and environmental responsibility.
WOR(l)Dis a recognized as a leading player in the drive towards a more economically stable, socially connected world. Leveraging a new business paradigm, WOR(l)D seeks to transcend every social and economic boundary.
Using innovative products and a proven, direct selling business model wor(l)d is helping people around the globe to transform their lives—and their livelihoods. For more information please visit www.worldgn.com