Chad and Nattida Chong – WOR(l)D Global Network Achieve $450,000 Per Month
January 26, 2017
By Team Business For Home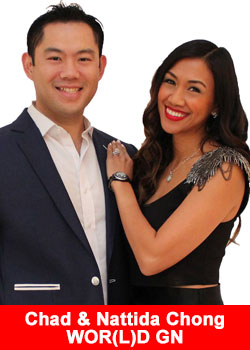 Chad and Nattida Chong, have achieved the $450,00 per month mark with their WOR(l)D Global network distributorship.
Results are not typical, individual results will vary big time 🙂
They are second generation network marketing distributors and live in the USA.
After reaching Double President Millionaire just 1 month ago, Chad & Nattida have done it yet again, breaking record after record.
Just this past week they reached the very top rank, Grand President Millionaire at WOR(l)D Global Network, making them the 2nd to ever do so, and the very 1st in USA history.
A Grand President Millionaire generates over $5 million USD of revenue in just 7 days.
"We have never experienced such success and momentum in our lives. It has nothing to do with us at all. It's simply because we are a part of something so much bigger than us and so much bigger than everybody combined. This isn't just another company. It's a movement! All we do is share a 2 minute video and everything just goes viral. It's simply a dream come true."
exclaim Chad & Nattida.
They express their utmost gratitude to their sponsors, the very first Grand President Millionaires, Nat & Chanida Puranaputra, who are also the Global Master Distributors, #10 on the Top Worldwide MLM Earners, and the #1 income earners at Wor(l)d. This also would not be possible without the vision and genius of CEO Fabio Galdi and his executive team.
https://www.youtube.com/watch?v=q2Aau5tz8OY
Chad and Nattida are an example to follow for the whole industry. They are building their success completely on hard work, dedication and quality. They are truly a perfect business power couple and are experts on vision & strategy, and leadership & recognition. They are powerful yet humble. They are simply amazing!,
remarks Alessandro Senatore, COO of Wor(l)d.
"What excites us the most isn't our accomplishment. What excites us is that finally our organization is experiencing success like they never have before. Wor(l)d is a place for winners who haven't won yet, or for leaders who want to win even BIGGER. This company provides hope and is able to break the barriers to what is really possible," exclaim Chad & Nattida.
Fabio Galdi says about Chad and Nattida:
"There's no more appropriate word to use about Chad and Nattida. They are simply "Unbelievable".
I'm sure they will be the backbone of our future network development and this is just the beginning, for them and for us
In the past few months Chad & Nattida Chong were able to build an organization of over 40,000 people, producing 2 President Millionaires, 1 Grand President, 1 Double President, 9 Presidents, 5 Grand Diamonds, 8 Double Diamonds, and 36 Diamonds in the USA alone. This doesn't include the hundreds of Diamonds and above outside of the USA.
Chad & Nattida express,
"Finally we are truly able to change people's lives. No hype. But real results happening right before our eyes."
To find out more, connect with Chad & Nattida at www.CNWorldGN.com
About WOR(l)D GN
With an Headquarter in MIAMI, USA, WOR(l)D stands apart as a leader in the global markets of media, mobile and wearable technologies. In the 15 offices distrbuited in all the continents, WOR(l)D is employing the brightest minds and best professionals, constantly investing in great ideas and highly motivated people. Every WOR(l)D product reflects its passion for research, innovation and environmental responsibility.
WOR(l)D is a recognized as a leading player in the drive towards a more economically stable, socially connected world. Leveraging a new business paradigm, WOR(l)D seeks to transcend every social and economic boundary. Using innovative products and a proven, direct selling business model wor(l)d is helping people around the globe to transform their lives—and their livelihoods.
For more information please visit www.worldgn.com