Mary Kay Leadership Conference In New Orleans 8,300 Attendees
January 19, 2017
By Team Business For Home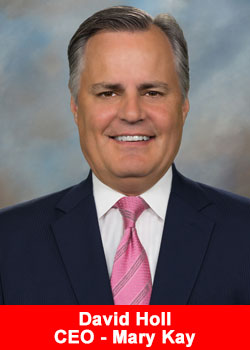 In a city known for jazz, Mary Kay's annual U.S. Leadership Conference in New Orleans is music to the city's ears as the event brings nearly 8,300 attendees, approximately $12.9 million in direct visitor spending and an opportunity to give back to its host city.
The top beauty brand and direct seller in more than 35 markets around the world kicks off its annual Leadership Conference on Jan. 11 at the New Orleans Ernest N. Morial Convention Center.
According to the New Orleans Convention & Visitors Bureau, Mary Kay's Leadership Conference is one of the top 15 conferences in terms of size and economic impact of the nearly 50 conferences New Orleans hosts each year. The event provides recognition, education and inspiration during two back-to-back, four-day conferences for the entrepreneurs who have their own Mary Kay businesses.
This marks the third time Mary Kay has held its annual Leadership Conference in New Orleans following events in 2005 and again in 2014.
"With its historic architecture, rich culture, live music scene, incredible restaurants and hotels, we're thrilled to be back in New Orleans with Mary Kay Independent Sales Directors from across the nation," said Nathan Moore, President of Mary Kay Inc.'s North America Region.
"While we paint the town pink for a week, we're excited for the opportunity to give back in a tangible way. By assembling and distributing much-needed care kits to domestic violence shelters throughout the New Orleans area, we continue our longstanding commitment to help prevent and end an epidemic that touches one in four women in their lifetime."
Along with those iconic, traffic-stopping Mary Kay pink Cadillacs, the weeklong conference brings the Mary Kay independent sales force an opportunity to provide support to those in need. To support Mary Kay's commitment to preventing and ending domestic violence with its Don't Look Away program, attendees will assemble 2,000 care kits during the conference to distribute to six local domestic violence shelters: Iris Domestic Violence Center, Connections for Life, St. Bernard Battered Women's Program, Crescent House, Safe Harbor and Metropolitan Center for Women & Children.
The care kits are filled with Mary Kay® basic hygiene products, and offer a source of comfort to women at emergency shelters who often flee abusive situations with nothing but the clothes on their backs.
"With an overwhelming demand for services and limited funding, we are always in need of basic necessities and the Mary Kay care kits fill that gap at a critical and emotional time for our clients," Mary Claire Landry, Executive Director of Crescent House. "Our organization along with the five other New Orleans area domestic violence shelters receiving care kits have also received shelter grants from The Mary Kay Foundation? over the years.
Support from generous companies like Mary Kay allow us to focus our attention on what matters most – maintaining a safe place for our clients and providing programs to help prevent abuse before it begins."
Each year, Mary Kay holds its U.S. Leadership Conference in a different city in the United States. Independent Sales Directors and Independent National Sales Directors offer leadership and motivation to the growing Mary Kay independent sales force worldwide. To date, Mary Kay Inc. and The Mary Kay Foundation? have donated $53 million to domestic violence prevention and awareness programs in an effort to end the cycle of abuse. For more information about Mary Kay's commitment to end domestic violence visit marykay.com/dontlookaway.
About Mary Kay
At Mary Kay, success lies in our dedication to irresistible products, a rewarding opportunity and positive community impact. For more than 53 years, Mary Kay has inspired women to achieve their entrepreneurial goals in nearly 40 countries. As a multibillion-dollar company, we offer the latest in cutting-edge skin care, bold color cosmetics and fragrances. Discover more reasons to love Mary Kay at marykay.com