WOR(l)D Achieves $380 Million in Total Sales
January 8, 2017
By Team Business For Home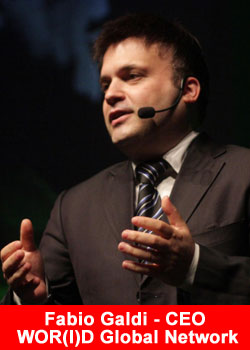 WOR(l)D Global Network, – a triple A classified opportunity by Business For Home – has been under the spotlight recently for all sorts of amazing reasons.
First of all, big leaders are joining the "WOR(l)D Movement" to build a better world and achieve a healthier lifestyle through technology.
In addition, the launch of HELO has taken WOR(l)D to the next level, and an amazing milestone is achieved: $380 million USD in cumulative sales in only 5 years.
For two days in a row, HELO has been featured on FOX channels in the USA, as part of tech news for 2017.
This amazing milestone occurred just in time to celebrate with a brand new website. Wor(l)d GN new website also introduces a new brand image and the new WOR(l)D tagline that will appear on all products and services: Life Sensing Technologies.
All WOR(l)D's products and services will involve the senses to improve lifestyle through technology, and we believe there's no better way to explain the vision of our company for the years to come.
"A brand new website has been necessary to better explain the positioning of the company in the MLM market through an updated voice," Antonio De Rosa, WOR(l)D SVP of Marketing and Communication said.
"HELO, its technology, and the endorsements of top IT industries were some of the new things happening with WOR(l)D and we wanted to showcase the company's power and its path towards designing a better and healthier future."
https://www.youtube.com/watch?v=-R5kSH5ROag
About WOR(l)D GN
WOR(l)D also referred to as World GN is a global multi million dollar company that offers services in the telecommunications, renewable energy, technology and mobile Telecommunication. With 15 offices Worldwide, along with their numerous awards won recently, WOR(l)D is recognized as one of the most prestigious opportunities in the industry.
Its current headquarters is in the United States with its major offices in the United States, Singapore, India, China, Russia, Ireland, Dubai, Tunisia, Brazil, Turkey, Thailand, Vietnam, Columbia, Paraguay, and Hong Kong. For more information please visit www.worldgn.com