WOR(l)D GN Introduces HELO LX
January 24, 2017
By Team Business For Home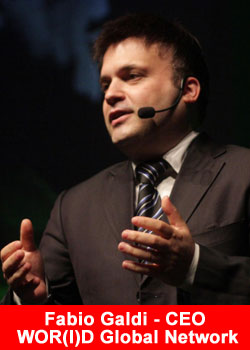 During the convention session of the Diamond Life Holiday – Dubai 2017. WOR(l)D Global Network has officially launched the new HELO™ LX.
New HELO™ is a design and technological upgrade of the first WOR(l)D wristband (technical named HELO™ HL01). To the already established technology, now joins an refined and elegant design characterized by new materials.
150 Top leaders heard directly from CEO Fabio Galdi and top management many outstanding previews, most of all the official launch of HELO LX the new WOR(l)D tech jewel, a new generation healthband, again powered by APP Lite by Toshiba, fully compliant with the Life Sensing Technology idea of the company.
HELO™ LX is the second step of WOR(l)D New Era within Wearable Technology Market and it will contribute even more to the growth of the Company.
The new hight quality materials are wisely combined to create a luxury product (from here the initial LX, a Luxury word abbreviation) that today looks like a precious jewel.
With a completely new design, HELO LX not only brings new materials and new finishings but also introduces the new sensor sampling frequency at 125Hz instead of 35Hz like the previous model. This means more accuracy in measurements.
The ECG plate on the bottom has been reduced and optimized and a new charger with magnetic connection has been introduced.
With this second step, the Company confirmed the presence of 99.999? Pure Germanium stone on Titanium plates, between the products that can be combined with HELO™. But the offer is now enriched with a new series of stylish accessories: Colours Bands.
The Colours Bands can be simply changed to fit to the each style because are available in 5 new fantastic colours: Candy Pink, Ultra Violet, Purple Red, Royal Blue, Light Blue.
BioZen also had its moment: the sticker chip engineered to reduce the harmful effects of electrosmog was officially shown on stage and given as a gift to each guest to apply on their smartphones and devices.
Dr. Wolfgang Vogl explained to the attendants the risks of this neglected problem and showed scientifically how BioZen reduces the risks arising from electromagnetic fields.
Among gala dinners and a fantastic run in the desert great food, the Diamond Life Holiday also had unprecedented awards, with prizes on stage and a preview of the 3 SuperCars won thanks to the SuperCar Promo: a Maserati for Phanawat Lapsamphan & Paisan Jhonjaroen (TH), a sporty Lamborghini for Chad and Nattida Chong (US), and a very luxurious Rolls Royce for Grand President Millionaire Chanida and Nat Paranaputra (TH).
WOR(l)D Global Network Dubai Leadership meeting

About WOR(l)D GN
WOR(l)D also referred to as World GN is a global multi million dollar company that offers services in the telecommunications, renewable energy, technology and mobile Telecommunication. With 15 offices Worldwide, along with their numerous awards won recently, WOR(l)D is recognized as one of the most prestigious opportunities in the industry.
Its current headquarters is in the United States with its major offices in the United States, Singapore, India, China, Russia, Ireland, Dubai, Tunisia, Brazil, Turkey, Thailand, Vietnam, Columbia, Paraguay, and Hong Kong. For more information please visit www.worldgn.com