Zeek Rewards – Dawn Wright Olivares and Daniel Olivares In USA Jail
January 14, 2017
By Team Business For Home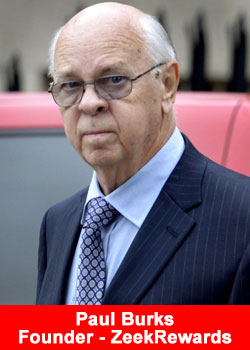 If you are found guilty for organizing a Ponzi Scheme in the USA this is what happens:
The Patrick Pretty website reports: 7.5 year in jail for former COO Dawn Wright Olivares and 2 years for CTO Daniel Olivares:
Patrick Pretty:
The landing spots for two key Zeek Rewards figures now are known. Former Zeek COO Dawn Wright-Olivares is listed as inmate 29336-058 at FMC Carswell in Fort Worth, Texas.
The facility is a Federal Medical Center for female offenders and has an adjacent minimum security satellite camp, according to the Federal Bureau of Prisons website.
Daniel C. Olivares, the stepson of Wright-Olivares and the former senior technology officer at Zeek, is listed as inmate 29335-058 at CI Taft, a contracted correctional institution operated by a private corporation in Taft, Calif., according to the BOP website.
Wright-Olivares and Olivares were sentenced in September 2016 by U.S. District Judge Max O. Cogburn Jr. of the Western District of North Carolina. Both defendants had agreements with prosecutors and pleaded guilty in February 2014.
Cogburn imposed a term of seven and a half years on Wright-Olivares. Olivares was sentenced to two years. Each defendant pleaded guilty to investment-fraud conspiracy, with Wright-Olivares also pleading guilty to tax-fraud conspiracy.
The Winston-Salem Journal is reporting this morning that Zeek operator Paul Burks tentatively is scheduled to be sentenced Feb. 13.
Zeek was one of the largest combined Ponzi- and pyramid schemes in U.S. history.
Wright-Olivares and Olivares were not immediately sentenced to prison after their guilty pleas. Their situation was not unique, and some defendants are given time to report after their formal sentencing.
Again we want to make our policy clear, if we list top earners it is NOT an endorsement.