Amway 2016 Sales Down 7% To $8.8 Billion
February 13, 2017
By Team Business For Home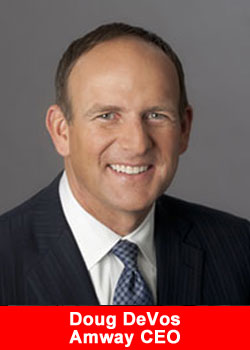 Amway sales dropped more than 7 percent in 2016 to $8.8 billion, marking a third year of revenue decline. The direct seller increased sales in seven of its top 10 markets, but experienced softening market conditions in China.
"Across the world, Amway did well in 2016," said Amway Chairman Steve Van Andel. "We experienced sales growth in several top markets, saw double-digit percentage growth in nine additional markets, and continued to evolve the business in China as we seek to take advantage of shifting market conditions and achieve the market's long-term growth potential.
"Above all, we are pleased to see the continued and growing relevance of the direct selling model in today's marketplace as people place real value on personal recommendations, and technology enables our distributors to connect with customers at any place at any time."
"We believe that in a world where people have more choices than ever before – specifically in how they make money, where they find products and who provides them with tips and insights – that we're well positioned to help individuals meet their varying needs through the choice of an Amway™ product or Amway™ business opportunity," said Doug DeVos, Amway president and chairman of the World Federation of Direct Selling Associations.
"Nearly 60 years after we opened for business by helping others open for business, many things have changed – but the value of a business opportunity that is open to everyone isn't one of them."
Some of the benefits of owning an Amway business are the skill building and digital support that is available through the company. Distributors participated in more than four million free online training sessions in 2016, focused on selling, general business skills and our product brands / categories.
The company also launched an array of digital tools in markets around the globe, providing business management support, training, product details, and product recommenders to help distributors as they sell products, manage their day-to-day tasks and build their businesses.
The top 10 nations for Amway in 2016 were:
China

United States

South Korea

Japan

Thailand

Taiwan

India

Malaysia

Russia

Hong Kong
About Amway
Amway is an $8.8 billion direct selling business based in Ada, Michigan, USA. Top-selling brands for Amway are Nutrilite™ vitamin, mineral and dietary supplements, Artistry™ skincare and color cosmetics, eSpring™ water treatment systems and XS™ energy drinks – all sold exclusively by Amway Business Owners.
Global sales in 2015 made Amway the No. 1 direct selling business in the world, according to the 2016 Direct Selling News Global 100. The company's annual sales figure includes revenue from direct selling operations and other business holdings. For company news, visit globalnews.amway.com.