Javita Receives Two Platinum AVA Digital Awards
February 8, 2017
By Nicole Dunkley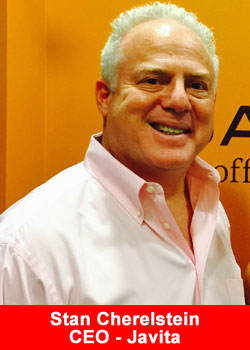 Javita International, a global healthy coffee and beverage company, is the recent recipient of two Platinum AVA Awards, honoring excellence in digital creativity, branding and strategy.
Javita received the two Platinum AVA awards in the Video Production categories of Corporate Company Overview and Marketing Product.
This year there were 2,500 entries from throughout the United States, Canada, and 16 other countries. Winners were selected from over 200 categories in Audio, Video and Web-based production.
Fourteen percent of the entries won Platinum, the top award and around 20 percent the Gold Award. Judges are industry professionals who look for companies and individuals whose talent exceeds a high standard of excellence and whose work serves as a benchmark for the industry.
The creation of high quality videos is essential for developing the Javita brand as well as providing our Members with high quality business tools that enable them to share the Javita message, said President and CEO Stan Cherelstein. We will continue to develop great videos that supports our first-class products and business opportunity.
The company's corporate party video, Changing Lives, provides a full overview of what Javita is all about! The video covers the products — science and ingredients; the opportunity — rewards, incentives and bonuses; and the people. This video received the Platinum award in Corporate Company Overview.
The Burn + Control Sizzle video also received a Platinum award in the Marketing Product category. This video featured the company's best-selling product (Burn + Control coffee), and gives the viewer a look behind the science and benefits of the product.
The Platinum award is the competition's highest honor and is garnered by only those entries that meet the exceptional standards for quality, creativity and resourcefulness set by the AVA.
Javita is honored to be recognized for the hard work that has been put into the Changing Lives and Burn + Control videos.
AVA Digital Awards is an international competition that recognizes excellence by creative professionals responsible for the planning, concept, direction, design and production of digital communication. Work ranges from digital engagement campaigns – to audio and video production – to website development – to social media interaction – to mobile marketing.
AVA Digital Awards is sponsored and judged by the Association of Marketing and Communication Professionals (AMCP). The international organization consists of several thousand production, marketing, communication, advertising, public relations and free-lance professionals.
About Javita
Javita, with global headquarters in Boca Raton, Florida, is a company committed to changing the lives of millions of people by bringing together healthy, unique, great tasting products and an incredible business opportunity that can enhance people's lives – One cup at a time. The company has offices and warehouses in North America, Europe and Asia and does business in more than 30 countries globally.