Mike Sims Achieves President Millionaire Rank At WOR(l)D Global Network
February 24, 2017
By Team Business For Home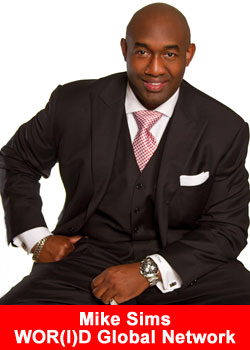 In record-breaking time, Mike Sims becomes WOR(l)D's Newest President Millionaire.
Mike Sims states:
Being a student of the industry, I had been watching World Global Network for months, but I wasn't looking to build another network marketing business. I've been with a company for the last 10 years and still earning significant income and quite frankly I was comfortable.
I was honestly looking to retire and focus more on family and spiritual goals, and continue to just serve the profession as a teacher and coach. I have given 110% from day one, when I entered the network marketing profession 17 years ago. I was mentally and physically burnt out from what it really takes to build a huge business.
When I heard Nat and Chanida and Chad and Nattida were building WGN of course I had to dig deeper. The deeper and deeper I dug the more and more exciting it looked. Then I got a call from Romacio Fulcher, who I've known for years. He said Mike you've got to at least meet the CEO and make sure this is something that deserves none of your time and effort.
When I met Fabio Galdi, I was looking for reasons to say no. I wanted to stay in the comfort zone. After that meeting, I couldn't sleep for the next 30 days. The fire in my belly started burning again and I couldn't extinguish it. I was at an event a few weeks later with Bob Proctor and I heard him say Get out of your comfort zone! There's no success there!
In that meeting I saw 5 main things:
1. A product that is relevant and setting the trends in a category experts say is the next multi billion dollar technology play, whether we like it or not. Yes, technology changes everyday, and the companies that can't keep up, get left behind. Fabio Galdi has a crystal clear vision of how to stay ahead of curve.
2. A system in place in which I can build a home based business and actually be at home. I was tired of traveling like an airline pilot. The system allows me to build a business from home, and still focus on family and spiritual goals.
3. A compensation plan that is simple to understand and teach, and very lucrative. It's designed for the part time person and the major builder. The residual income aspect is incredible. In totality, the compensation plan will allow me to reach my dream income levels and allow me to do what's most important, help other people have massive breakthroughs!
4. A 5 year old 150 million dollar company that is debt free and doing business in 195 countries, which allows me to do business everywhere from home.
5. Because the company is publicly traded, I can have ownership. In this profession, I've seen so many leaders put blood, sweat and tears into building companies, and walk away with absolutely nothing! It's a travesty! Because I can buy stock and earn stock, we are truly partners with corporate, not just employees with a 1099! It's a true retirement plan that's not based on me continuing to build forever with no end in site! Never again will I mortgage years of my life for something I don't truly have ownership in!
After extensive prayer and talking with my family, I said yes to building another asset. I officially launched Feb 7, and I've been blown away by the speed of the build and the income. I will earn 6 figures my first 30 days, without raiding my existing business. I don't have to tear down one house to build another! I intend to break a lot of industry records this year. I've got an incredible BRAND NEW team, an awesome product, phenomenal leadership, and the compensation plan to do it.
It has been an absolute honor to work with Mike. Not only does he bring additional confirmation and credibility to WOR(l)D, but he definitely adds an extra sense of professionalism.
There was absolutely no doubt that he would crush it here and break records. The astonishing part is that this is just the beginning. We can't even fathom what will take place in a year!, exclaim Chad & Nattida Chong.
About WOR(l)D GN
With an Headquarter in MIAMI, USA, WOR(l)D stands apart as a leader in the global markets of media, mobile and wearable technologies. In the 15 offices distrbuited in all the continents, WOR(l)D is employing the brightest minds and best professionals, constantly investing in great ideas and highly motivated people. Every WOR(l)D product reflects its passion for research, innovation and environmental responsibility.
WOR(l)D is a recognized as a leading player in the drive towards a more economically stable, socially connected world. Leveraging a new business paradigm, WOR(l)D seeks to transcend every social and economic boundary. Using innovative products and a proven, direct selling business model wor(l)d is helping people around the globe to transform their lives—and their livelihoods. For more information please visit www.worldgn.com