Romacio Fulcher Achieves Double President Millionaire Rank At WOR(l)D Global Network
February 27, 2017
By Team Business For Home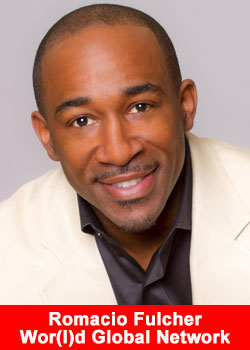 After launching his business in November and becoming the fastest US President Millionaire in just 3 weeks, Romacio Fulcher has done it again by becoming the fastest worldwide Double President Millionaire in just over 3 months, making him the #2 earner in North America and landing him with $140,000 per month as #136 on the Top Worldwide MLM earners list.
Romacio attributes his explosive rate of success to following the guidance of Global Master Distributors and #10 worldwide MLM earners, Nat and Chanida Puranaputra, and #12 worldwide MLM earners, Chad and Nattida Chong. He is grateful to them for the blazing the trail at Wor(l)d.
He also expresses his gratitude to CEO Fabio Galdi for his leadership, vision, and innovation. Fabio's vision to bring life-sensing technology to the MLM distribution model and to create a long-term financial plan for the distributors through the stock plan shows his ground-breaking style and appreciation of the field.
Romacio is a do-it-first leader to show people what is possible and is excited at the fast rate of success for his team. Duplication is the key to building a strong team and solid foundation and he is truly seeing the duplication at Wor(l)d.
In his short time with the company, he has produced 1 President Millionaire, 1 Grand President, 2 Double Presidents, 3 Presidents, 5 Grand Diamonds, 4 Double Diamonds, and 20 Diamonds. This is the most success his teams have seen in a short period and Romacio attributes it to the leadership, easy to use system, relevant product, timing, and lucrative compensation plan. He is excited to continue to help his team break personal records and fulfill his VISION of creating 100 millionaires within 3 years.
Romacio says, "Wor(l)d is the complete package and what every networker is looking for. I have never seen average ordinary people creating this type of success by simply sending a text with a 2-minute video. These are real results. This is our time."
About WOR(l)D Network.
With an Headquarter in MIAMI, USA, WOR(l)D stands apart as a leader in the global markets of media, mobile and wearable technologies. In the 15 offices distrbuited in all the continents, WOR(l)D is employing the brightest minds and best professionals, constantly investing in great ideas and highly motivated people.
Every WOR(l)D product reflects its passion for research, innovation and environmental responsibility.
WOR(l)Dis a recognized as a leading player in the drive towards a more economically stable, socially connected world. Leveraging a new business paradigm, WOR(l)D seeks to transcend every social and economic boundary.
Using innovative products and a proven, direct selling business model wor(l)d is helping people around the globe to transform their lives—and their livelihoods. For more information please visit www.worldgn.com