Thermomix Australia – A Vorwerk company – Is Being Sued By A Former Distributor
February 6, 2017
By Team Business For Home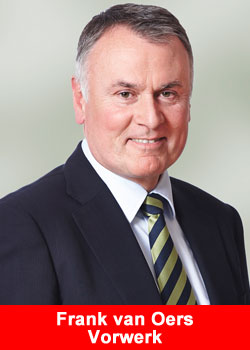 According to News.com.au an Australian based magazine, Thermomix a Vorwerk company is sued by a former distributor.
News.com.au:
THE $2089 Thermomix calls itself "the most advanced appliance on the market" and has thousands of zealous fans, but the cult kitchen brand is at the centre of a bitter, emotional legal battle with a "traumatised" former contractor.
The high tech food processor is supposed to make life easier, yet in the past two years the company has been accused of causing third degree burns, encouraging a toxic bullying culture and failing to be honest with its customers.
Now former contractor Elisabeth Higgins, 56, from Perth, is suing Thermomix Australia in the District Court of WA. She claims Thermomix took away her business and failed to compensate her, and wants them to pay her lost earnings of $85,230.40, as well as additional compensation, interest and legal costs.
You cannot buy a Thermomix in a shop or online. The direct selling business operates like Tupperware or Avon, and the machines are sold by 'consultants', who work on commission, during in-home demonstrations.
The consultants are managed by group leaders, who earn commission on the sales of the consultants they look after. Consultants are not technically employees of Thermomix, but rather independent contractors who manage their own businesses. The more consultants a group leader recruits, trains and manages in their area, the more their own business grows and therefore their income.
Holly Lacy of Coffs Harbour is slowly recovering from burns she suffered after her Thermomix pressure cooker burst into flames, burning her left arm and wrist. Picture: Frank RedwardSource:News Corp Australia
Ms Higgins became a Thermomix consultant in February 2007 and Thermomix terminated her contract in April 2014. During that time, Ms Higgins progressed to a group leader and "sourced, recruited, trained and managed" up to 20 consultants. She was making about $60,000 annually from this business.
In court documents seen by news.com.au, Ms Higgins claims Thermomix "transferred" some of these consultants away from her area, with "no offer of compensation … for the loss of income that would result". She also says the company reduced the size of the geographical area in which she operated. In April 2014, Thermomix terminated Ms Higgins' contract.
Ms Higgins claims these three acts were in breach of Australian Consumer Law. Her case, which goes to trial in May, hinges on proving Thermomix broke this law.
"The Plaintiff has suffered damages representing lost income of $85,230.40 and lost opportunity to recruit consultants," the court documents state.
"As a result of the termination … the Plaintiff has lost her business with subsequence loss of income and opportunity to sell the business."
"As a result of the matters … the Plaintiff claims damages and compensation to be assessed".
When contacted about the case, a Thermomix spokeswoman told news.com.au: "The proceeding has been defended and as it is a matter before the District Court of Western Australia it is not appropriate to comment further."
News.com.au understands Ms Higgins's lawsuit is the "test case" for a group of former Thermomix consultants who are also pursuing legal action against the company. There are five other women — two in WA, one in Victoria, one in South Australia and one in NSW. All claim they have had similar experiences to Ms Higgins and say they are "traumatised" by the experience.
"I worked so hard for years, and was very successful for the company, but when I was 'discarded' I felt so used and it devastated me," one woman told news.com.au, on the condition of anonymity. "It broke my heart. After I left Thermomix I was ill for a long time," she said.
Another woman, who also spoke anonymously, said: "We all worked exceptionally hard with long unpaid hours to build the Thermomix business, then had this ripped away. We were devastated and could not believe that this was right, let alone legal."
She continued: "We pursued legal action after we realised just how badly we were being treated. We all worked so hard as contractors, to build up the Thermomix business in various areas, only to have them take it from us and often with little or no warning, or even a discussion.
"In most cases the businesses grew after a lot of work, extensive hours and travel — only to have them divided up and handed to new managers, along with some of our team. Areas were just carved up, or just handed over to another contracted manager, with no compensation."
Read further here: Thermomix lawsuit
About Vorwerk
At the end of 2015, there were seven divisions operating within the Vorwerk Group: Thermomix, Kobold, JAFRA Cosmetics, Lux Asia Pacific, Engineering, the akf group and Vorwerk flooring. With Vorwerk Direct Selling Ventures, the Holding Company also operates a venture capital company. Since July 2015, Vorwerk has also been a player on the market for premium power tools with its new business unit, Twercs. Vorwerk Group products are obtainable in a total of 71 countries – either direct from the Group's own sales organizations or through its designated distributors.
Vorwerk Group partners' equity – including the fully consolidated financial services provider akf group – stands at 38.7 percent. A valuation at equity of the akf group results in partners' equity of 64,3percent. The Group's liquid assets are deposited chiefly in special funds and other readily realizable assets and totaled 1,113 million euros on the balance sheet date.
The Vorwerk Group opened an entirely new businessunit on July 1, 2015 with Twercs. The Twercs product is a unit charger case with four power tools in high-quality Vorwerk design: cordless jigsaw, cordless drill/driver, cordless stapler and cordless glue gun. With this product, the Twercs business unit positions itself in the tool industry's premium consumer sector.
The market for power tools has developed very favorably in recent years so that Vorwerk sees great potential in this market. The strategy is to offer customers a wide range of creative materialscompletewith instructions and also to build up a Twercs community in addition to selling this premium product. Besides sales through the business unit's own online shop and in Vorwerk stores, direct selling with its inherent customer proximity is the most important sales channel.