Tupperware Q4 Sales Up 1% To $600 Million
February 6, 2017
By Team Business For Home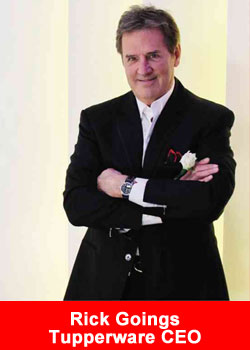 Tupperware Brands Corporation announced fourth quarter 2016 operating results.
Fourth quarter 2016 net sales were $600.9 million, up 1% in dollars and 3% in local currency, which included a 4-point benefit from a 14th week in 2016's fiscal calendar. Emerging markets**, accounting for 65% of sales, were up 5% in dollars and 8% in local currency.
Rick Goings, Chairman and CEO, commented,
We experienced a challenging fourth quarter to cap off an already tough 2016. Local currency sales grew 3% in the quarter, which was 1 point under the October guidance range.
Despite the impact of further economic and political instabilities, our businesses in emerging markets continued on a growth trajectory in the fourth quarter with outstanding results in Argentina, Brazil, China and Tupperware South Africa.
Goings continued, Adjusted earnings per share was 3 cents above the high-end of our range, including a 5 cent hit from foreign exchange rates versus our October guidance. Under the toughest of circumstances in 2016, our resilient portfolio of businesses and experienced management teams continued to deliver earnings and cash flow that support the Company's future growth and commitment to its strong dividend.
Fourth quarter sales up 1% in dollars and 3% in local currency+, including benefit of an additional week in the fiscal quarter.

GAAP diluted E.P.S. $1.55 versus $1.15 in prior year. Adjusted*, diluted E.P.S. $1.45, up 7% in dollars and 9% in local currency, was three cents above the high-end of guidance range, after a 5 cent drag from exchange rates versus October guidance.

South America sales up 39% in dollars and 31% in local currency, led by Brazil, up 57% in dollars and 32% in local currency.

Tupperware North America segment sales down 2% in dollars and up 4% in local currency led by growth in the United States and Canada up 8%.

Board of Directors declares quarterly dividend of 68 cents per share and extends share repurchase authorization to February 2020.
About Tupperware
Through an independent sales force of 3.1 million, Tuperware Brands is the leading global marketer of innovative, premium products across multiple brands utilizing social selling.
Product brands and categories include design-centric preparation, storage and serving solutions for the kitchen and home through the Tupperware brand and beauty and personal care products through the Avroy Shlain, BeautiControl, Fuller Cosmetics, NaturCare, Nutrimetics, and Nuvo brands.
The Company's stock is listed on the New York Stock Exchange (NYSE: TUP)