USANA Health Sciences Q4 Sales Up 8.7% To $252 Million
February 8, 2017
By Team Business For Home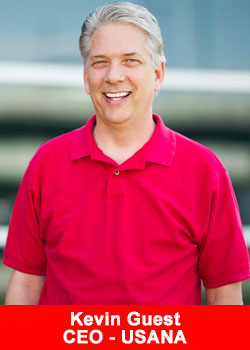 USANA Health Sciences, Inc. (NYSE: USNA) today financial results for its fiscal fourth quarter and year ended December 31, 2016.
For the fourth quarter of 2016, net sales increased to $252.9 million, up 8.7%, compared with $232.6 million in the prior-year period. A stronger U.S. dollar negatively affected net sales by $9.2 million for the quarter.
Excluding the impact of currency, net sales would have increased by 12.7% for the fourth quarter of 2016. Net sales growth was driven by an 11.9% increase in the number of active Associates.
Net earnings for the fourth quarter decreased by 8.7% to $21.9 million, compared with $24.0 million during the prior-year period. Changes in currency negatively impacted net earnings by an estimated $2.4 million. Lower gross margins and higher Associate Incentives expenses also negatively impacted net earnings.
Fourth quarter net sales increased 8.7% to $252.9 million, up 12.7% in constant currency

Number of active Associates at quarter-end increased 11.9% to 471,000

Fourth quarter EPS decreased 5.4% to $0.871

For the year, net sales increased 9.5% to a record $1.006 billion, up 14.1% in constant currency

For the year, EPS increased 11.1% to a record $3.991

Company provides 2017 Outlook
Gross margins were lower largely due to production inefficiencies associated with moving to the Company's new manufacturing facility in China, as well as the negative impact from a stronger U.S. dollar. Associate Incentives expense was higher, in great part, due to a global incentive that the Company offered during the quarter to generate excitement and customer growth.
Additionally, the effective tax rate for the fourth quarter was again lower due to the Company's early adoption of ASU 2016-09 (Topic 718) – Improvements to Employee Share-Based Payment Accounting. The Company's adoption of this standard increased net earnings by approximately $1.1 million, or $0.03 on a diluted per share basis, for the quarter.
Earnings per diluted share for the fourth quarter decreased by 5.4% to $0.87, compared with $0.92 in the prior year period. This decrease in earnings per diluted share is the result of lower net earnings, including changes in currency that negatively impacted earnings per diluted share by an estimated $0.10, partially offset by a lower diluted share count. Weighted average diluted shares outstanding were 25.0 million for the fourth quarter of 2016, compared with 26.2 million in the prior-year period. The Company did not repurchase any shares during the quarter.
The Company generated $55.3 million in cash from operations during the fourth quarter and finished the year with $175.8 million in cash and cash equivalents and no debt. As of February 7, 2017, $35.4 million remains available under the current share repurchase authorization.
"While USANA finished the year with another quarter of solid top line and Associate growth, several initiatives we implemented during the fourth quarter resulted in net earnings at the lower end of our guidance," said Kevin Guest, Chief Executive Officer.
"The first of these initiatives was the successful transition of our China manufacturing operations to our new production facility, which is now fully operational. With this facility in place, we now have the production capacity that we need in China. A second initiative entailed us offering a growth incentive to our Associates around the world that positively contributed to our performance during the quarter. These initiatives are important to our business and have also helped us get off to a good start in 2017."
About USANA
USANA develops and manufactures high-quality nutritional supplements, healthy foods and personal care products that are sold directly to Associates and Preferred Customers throughout the United States, Canada, Australia, New Zealand, Hong Kong, China, Japan, Taiwan, South Korea, Singapore, Mexico, Malaysia, the Philippines, the Netherlands, the United Kingdom, Thailand, France, Belgium, Colombia and Indonesia. More information on USANA can be found at www.usanahealthsciences.com.