iMarketsLive Launches Swipe Trades App
March 8, 2017
By Team Business For Home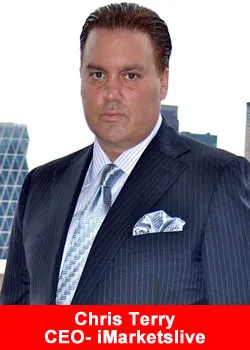 iMarketsLive provides a full array of retail trading products and services to a global audience for those who want to participate in the Forex & Futures Markets. The company launches a customer revolution with the telease of their mobile app, SwipeTrades.
With nearly 10,000 users in the first 60 days of being live, the brand new SwipeTrades app has taken the industry by storm, offering a complimentary service to anyone looking to build another source of income or wanted to try their hand in the financial markets.
"Listen, you need to understand something" Christopher Terry, CEO of iMarketslive, says, " with our new SwipeTrades App you do not have to be a professional trader to make professional money in the financial markets. In fact, anyone can do it, it's a simple copy, paste, and repeat method".
The vision is clear with Chris and his team; make the complex simple. iMarketsLive was built on the brain of Founder & CEO, Christopher Terry, who is a multiple 8 figure trader and has been trading and educating in the Forex, Futures, and Equity markets since 1994. Through his education and expertise Chris and his team provide the first timer to the experienced trader opportunities in the marketplace and an education that will teach them a skillset that they will have for the rest of their lives.
Setting goals for 2017, Chris and his team wanted to do something different. Their game plan for the year was to make such an enticing service line that anyone no matter the company, business, or place in the world could pick up and incorporate an additional income stream into their daily lives. Chris has attracted expert traders far and wide and together they have formulated a solution to help the average person win every day in the Foreign Exchange Markets are open.
Swipe Trades App
The brain child born from those meetings turned out to be SwipeTrades, a simple solution that takes experts in the Foreign Exchange Markets and gives them an easy to use platform to send daily money making opportunities in a matter of seconds to the all subscribers of iMarketsLive. SwipeTrades can be downloaded right now in the Apple and Droid app store. The app is a forex trading based platform where the user is provided daily market opportunities when the markets are open. These signals are sent by the Master Traders and come complete with analysis, symbol, entry price, stop loss, target prices, along with comments and charts. It is as easy as the user copying the trade details right from the notification and pasting them into their MetaTrader4 Platform.
Terry says, "This new proprietary Swipe Trading App will empower people around the globe to execute trades hands on while being guided by an experienced trader. I believe this technology will raise the bar completely,"
As a student of trends, Terry, realizes that both the novice and experienced trader needs a solid mobile centric app to increase their trading abilities. The new Swipe Trading App does just that, and it is as simple as copying and pasting. For the user it is as easy as:
Step 1: Download the SwipeTrades App (Available in Apple and Android stores)
Step 2: Login with iMarketsLive Customer Account
Step 3: Copy and Paste Trades Experts Have Sent To You
A simple solution that has beginners and experts alike excited for the daily notifications sent directly to their mobile devices. In a day and age where we seem to have an endless amount of new tools and gadgets, it can be hard to find just the right tools to cater fully to the average person's daily needs. iMarketsLive, made a decision to be a catalyst in providing the right tools for any persons tool chest, and it is as easy as copy, paste, and repeat. With their 'learn as you earn' company model, this business has exploded around the world, teaching anyone with internet access the ability to trade in the Foreign Exchange Markets all while giving them money making opportunities when the markets are open.
In an industry driven by time freedom. The SwipeTrades app was built as a complimentary vehicle to leverage your time and build the future you want to build.
An app that has attracted top network marketing leaders all over the industry who see the value in this retail product as a simple system letting experts do the hard work. This app doesn't interfere with the daily life, it compliments and creates regular opportunity for the average person.
The right education, starts with the right information, and combine that with the right tools and software, there is no reason not to see why iMarketsLive has exploded onto the global scene for people all around the world looking for opportunities to grow themselves. Together with the right education and the tools to carry the information, iMarketsLive has taken a proactive step to adjust the company's model and become a mirror image of the new industry wide customer acquisition standard.
About iMarketsLive
iMarketsLive provides a full array of retail trading products and services to a global audience for those who want to participate in the Forex & Futures Markets. iMarketsLive's services include a Live Educational Services, Hands Free Mirror Trading as well as a Robotic Trade Scanner and other amazing services.
iMarketsLive has a bundled their products/services with a Network Marketing compensation plan that allows its IBO's to earn a generous income by simply sharing their services with others and building a residual income though building a network of IBO's and customers. For more information please visit www.imarketslive.com