Isagenix Launches Initiative To Improve Overall Customer Experience
March 29, 2017
By Team Business For Home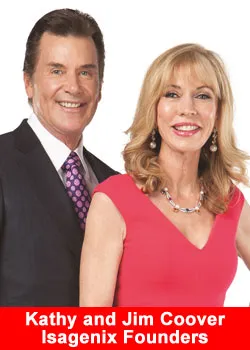 Isagenix, a global leader in health and wellness products and solutions, a Triple A classified opportunity by Business For Home – implemented a much-anticipated company initiative today.
The initiative has been in development for more than a year and celebrates the essential role of Isagenix customers.
Overall, the initiative was designed to:
* Introduce the Isagenix no-compromise nutritional solutions to more customers.
* Simplify the Isagenix ordering and member enrollment process for new and existing customers.
* Deliver the best possible customer experience.
"We take our no-compromise promise very seriously and always strive to provide our customers with the best possible solutions and experiences," said Jim Coover, Isagenix owner and chief executive officer.
"And as an evolving customer-driven company, we are constantly looking for ways to put our customers first. This initiative will not only do that, but it will also take Isagenix to the next level by driving our vision to be the largest and best health and wellness company in the world."
Some of the many exciting enhancements customers will experience as a result of Customer First include:
* New customer account choices, including a zero-fee membership option.
* Enhanced benefits for customers who opt for an annual membership, in addition to the best pricing for products and systems.
* Product coupons for customers when they refer others who purchase qualifying products and systems.
The features of Customer First will be available in Canada, Puerto Rico, Australia, New Zealand, and the U.S. upon launch of the initiative on March 27. As the company continues to expand its global presence, new markets, including the U.K. that is scheduled to launch in April, will open with the Customer First platform.
To learn more about Isagenix, visit our website at Isagenix.com, subscribe to our blog at IsaFYI.com, like us on Facebook at Facebook.com/Isagenix, and follow us on Twitter and Instagram @Isagenix.
About Isagenix International
Established in 2002, Isagenix provides systems for weight loss, energy, performance, healthy aging, and wealth creation. With more than 550,000 Customers worldwide and more than 100 life-changing products, packs, and systems globally, the company is committed to producing Solutions to Transform Lives™.
In 2016, Isagenix reached nearly $1 billion in global sales through an independent network of associates in the U.S., Canada, Puerto Rico, Hong Kong, Australia, New Zealand, Taiwan, Mexico, Singapore, Malaysia, Colombia, and Indonesia. Isagenix is a privately owned company with headquarters in Gilbert, Arizona. For more information, visit Isagenix.com.