Monir & Moyn Islam Achieve President Rank First Week With WOR(l)D
March 31, 2017
By Team Business For Home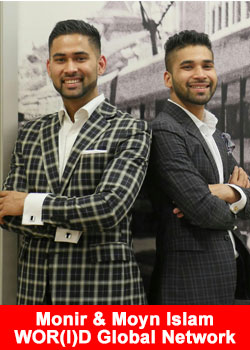 After partnering with WOR(l)D Global Network, Monir & Moyn Islam achieve the rank of President their first week.
Having made millions in this industry, we recently made a decision to depart from our existing venture although we were consistently making significent income were one of the highest earners in the company and in the whole world of MLM.
It was not a straight forward decision to leave such a position but after a full month of pondering on what we truly WANT from this industry, it was clear to us, it was time to move on.
This was all prior to any knowledge about WOR(l)D Global Network.
Everything happens for a reason and what you seek is seeking you. We are true believers of law of attraction. When we looked into WPR(l)D, we initially were not very keen to look into just another product based company, therefore we delayed it for while. However, at last one day we got on a call with Chad and Nattida Chong, and finally we opened our hearts and mind to see the possibilities and were blown away.
We had a few questions. Is WOR(l)D a company that is about sustainbility, longevity, transparency, integrity and is this a company that listen to its people, specially those who put their blood, sweat and tears into building a massive organisation for the company? Is this a company where we can introduce people and look into their eyes and say You will win here with 100% conviction and contentment? And to our suprise, it was more than a YES from us! The company has more to offer to the people than we have imagined!
We would like to mention few important points if not all we found in WOR(l)D and in network marketing in general witnessing for the first time:
1. A product that is unique, innovative, relevant and constantly evolving, and currently setting the trends in the market place. Whether we like it or not, experts says it is the new era of smart technology advancement and it is one of the fastest multi billion dollar industry.
2. We do not have to defend the product, company, comp plan or the credibility. We saw network marketers invest hours defending their product or sometimes it is something else to do with their company. With World it eliminates all these unecessay objectives and let us focus all our energy on productivity.
3. The most simplistic comp plan but yet immensly lucrative we have ever seen. No wonder this company is breaking income records already.
4. You do not have to be skilled to have success because it is a commercial product that speaks for itself. It is as simple as using a smart phone and long as you know how to copy and paste using our system, that's all you need! It is a home based business and you can be actually build at home or outside at your favorite beach for the matter.
5. A publicly traded company, and this not in theory. This a great deal for us and we know what this means as it will allow us to have ownership in the company, we can buy and earn stocks.
6. A product not for just 187 milliions but more than 6 billions of people. We are also in 2.2 trillion dollar industry of social selling, this is a perfect opportunity to reach the masses.
We have immediately started working from ground zero, we did not needed to bring our existing organisation, we have built an massive organisation globally on our recent venture, and we will do it again, whatever it takes, our mission is to create 50 new millionaires in next two years.
We are very grateful and thankful to Chad and Nattida for opening our minds and hearts to see how WOR(l)D Global Network is the place where we can build a legacy!
We are very excited to have partnered with Chad and Nattida Chong and the reason we have partnered with them is because of their integrity, leadership, work ethic and their eagerness to always serve and help people.
We are so proud to have Monir & Moyn on board to be the face of the millennials. What they have accomplished in a week here, we could only of dreamed of when we were in our early twenties. Our hats definitely go off to them. True leaders yet extremely coachable, exclaim Chad & Nattida, #10 Income Earners of all of Network Marketing.
About WOR(l)D GN
With an Headquarter in MIAMI, USA, WOR(l)D stands apart as a leader in the global markets of media, mobile and wearable technologies. In the 15 offices distrbuited in all the continents, WOR(l)D is employing the brightest minds and best professionals, constantly investing in great ideas and highly motivated people. Every WOR(l)D product reflects its passion for research, innovation and environmental responsibility.
WOR(l)D is a recognized as a leading player in the drive towards a more economically stable, socially connected world. Leveraging a new business paradigm, WOR(l)D seeks to transcend every social and economic boundary. Using innovative products and a proven, direct selling business model wor(l)d is helping people around the globe to transform their lives—and their livelihoods. For more information please visit www.worldgn.com