Nu Skin Appoints Mark Lawrence As Chief Financial Officer
March 8, 2017
By Team Business For Home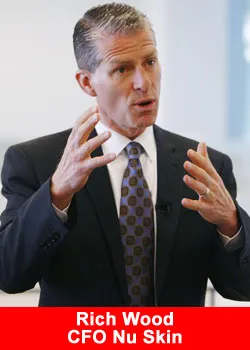 Nu Skin Enterprises, Inc. (NYSE: NUS) today announced the appointment of Mark H. Lawrence as chief financial officer, effective March 27. Lawrence will replace Ritch Wood, who will become the chief executive officer of the company as previously announced.
As indicated in the company's Feb. 16 press release, Truman Hunt, who has served as the company's chief executive officer since 2003, will become the vice chairman of the board of directors and Ryan Napierski will become the company's president. These changes are effective today.
Mark brings a wealth of leadership experience and an in-depth knowledge of finance and operations that will provide strength to Nu Skin and our senior management team, said Wood. In addition, his extensive experience in leadership positions at multiple publicly traded companies provides Mark a strong foundation to understand and leverage the opportunities ahead for our company.
We believe he will play a key role in moving Nu Skin toward our short- and long-term strategic goals.
About Mark Lawrence
Lawrence brings 20 years of operational and financial experience to the role. He recently served as the head of finance for Amazon-Lab126, where he was responsible for the company's global finance functions and played a key role in the launch of several Amazon devices. In addition, he has held senior financial leadership roles at Silicon Valley-based companies Polycom and Brocade as well as Utah-based Vivint Smart Home.
Lawrence holds a bachelor's degree in political science from Brigham Young University and a Master of Business Administration from the University of California, Davis.
About Nu Skin Enterprises, Inc.
Founded more than 30 years ago, Nu Skin Enterprises, Inc. develops and distributes innovative consumer products, offering a comprehensive line of premium-quality beauty and wellness solutions. The company builds upon its scientific expertise in both skin care and nutrition to continually develop innovative product brands that include the Nu Skin® personal care brand, the Pharmanex® nutrition brand, and most recently, the ageLOC® anti-aging brand.
The ageLOC brand has generated a loyal following for such products as the ageLOC Youth nutritional supplement, the ageLOC Me® customized skin care system, as well as the ageLOC TR90® weight management and body shaping system. Nu Skin sells its products through a global network of sales leaders in Asia, the Americas, Europe, Africa and the Pacific.
As a long-standing member of direct selling associations globally, Nu Skin is committed to the industry's consumer guidelines that protect and support those who sell and purchase its products through the direct selling channel. Nu Skin is also traded on the New York Stock Exchange under the symbol NUS. More information is available at nuskin.com.