QNET Wins 2016 Sitecore Experience Award
March 13, 2017
By Team Business For Home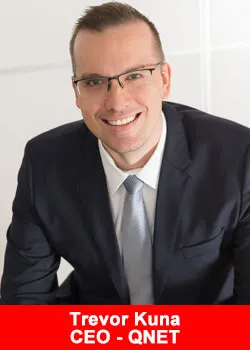 QNET today announced that it has received the award for Omnichannel Automation: Best E-Commerce Experience at the Sitecore® Experience Awards 2016 for Asia.
Every year, Sitecore, the global leader in customer experience management, honours its customers and their partners who thoroughly demonstrate how their Sitecore solution delivers an outstanding experience for customers and their respective organisations.
The category of best E-Commerce Experience that QNET won, recognises organisations that deliver a seamless, integrated e-commerce experience that makes the online browsing, product selection, purchasing and post-purchasing process seamless, helpful, and relevant.
QNET showcased personalised product suggestions, an omni-device shopping experience, and optimisation strategies in improving shopping cart conversions. With Sitecore Commerce's native capabilities such as catalogue, inventory, pricing, discount, and promotion management, and shopping cart interactions, the QNET corporate team can now implement and manage product and incentive promotions more easily and efficiently.
"We were thrilled to be honoured as a Sitecore Experience Award winner,"
said Trevor Kuna, CEO of QNET.
"We worked diligently with Sitecore's industry-leading Experience Management Platform™ to create a winning site that leverages the full power of context marketing to serve our customers best, driving loyalty and delivering a tremendous digital experience," Kuna added.
1998 QNET launched as the first direct selling company to be purely e-commerce based, and today this next generation platform further enhances QNET's unique position as a leader in the industry. With support from implementation partner Delaware, QNET has created a seamless and consistent shopping experience.
To stay competitive in today's digital age and meet the demands of its growing global digital audience, QNET aims to continue to deliver an exceptional customer experience that is modern, robust, and sustainable – all for the benefit of its Independent Representatives and customers.
About Sitecore Experience Awards
The Sitecore Experience Awards is an international competition held on an annual basis. Winners are selected in several categories within each region. The nominations list is based on input from partners, customers, the press, analysts, and colleagues.
Nominees are asked to submit an application outlining how they are using Sitecore to generate amazing experiences that feel personal to every customer and create a powerful brand halo across every channel that delivers real business results. Winners demonstrate creativity in presentation, integration with rich data sources and applications, an ability to educate, inform and motivate to action, and a compelling overall user experience. Visit www.sitecore.net/Sitecore-experience-awards to learn more about the awards and how to enter.
About QNET:
QNET, a prominent Asian direct selling company, provides a wide range of life enhancing and luxury products that are offered through its proprietary e-commerce platform to customers and distributors in more than 100 countries. The company also has over 25 offices and agencies worldwide, and more than 50 stockists, apart from localised operations or franchisees in a number of countries.
Established in Hong Kong in 1998, QNET is a member of the Direct Selling Associations in Malaysia, Singapore, the Philippines, and Indonesia. QNET is also a member of the Hong Kong Health Food Association and the Health Supplements Industry Association of Singapore, among others.
QNET is active in sports sponsorships around the world, including football, badminton and more, due to the company's strong belief that the drive, passion, and teamwork of sports mirror those of QNET. QNET recently signed a new and exciting partnership with Manchester City Football Club (MCFC), as its official direct selling partner for three years. For more information, please visit the QNET website at www.qnet.net