Struggling In China, Amway Bets On Technology For Turnaround
March 23, 2017
By Team Business For Home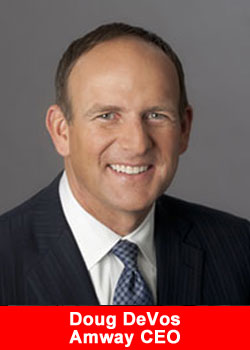 According to an intreview with Reuters:
Amway is looking to rebuild its business in China with the help of improvements such as an online ordering platform for its agents and experience centers, as sales in the country have fallen over the past three years.
Two decades after entering China, the country remains the biggest global market for the Michigan-based firm, representing about 30 percent of its $8.8 billion in total sales last year.
But China revenue has contracted from nearly $4 billion in 2013, to reach 17.7 billion yuan ($2.57 billion) in 2016.
We're struggling a bit here now, Doug DeVos, Amway's president, told Reuters in an interview late Tuesday in Beijing.
DeVos said the China business was suffering from a direct selling cycle and faced growing competition, with more than 90 direct selling companies now operating in the country.
China's direct sales market has doubled in size over the last five years, with the retail sales value, excluding sales tax, reaching 135.8 billion yuan in 2016, according to market researcher Euromonitor.
Amway's active sales force has contracted by about half over the past three years to 160,000 agents, while its permanent workforce has declined slightly to 8,000. It operates 250 stores nationwide, fewer than earlier.
To revive its business, Amway is turning to the Internet to make improvements for its sales force in China, DeVos said. The company is allowing agents to use an online platform to order and re-order products, while converting stores into so-called experience centers designed as both showrooms and clubhouses.
About 50 percent of all China sales are now made online, compared with around 10 percent five years ago, said Amway Greater China president Gan Chee Eng.
Last month, Amway said its total revenue in 2016 was down 7 percent from a year ago. Asia-Pacific, which also includes Japan and South Korea, remains the company's most important region, representing about two-thirds of total sales. The privately-held company does not disclose its profitability.
China is expected to remain the company's biggest market for some time, DeVos said.
China is going to have new markets (internally) for some time, said DeVos. We're going to work through the current situation, because we have some history with it, and we're going to find our way back.