The First Middle East Direct Selling Forum Announced
March 19, 2017
By Team Business For Home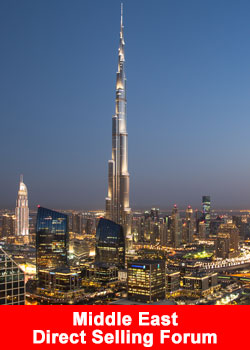 The Middle East Direct Selling Forum sets out to be the major regional force to mobilize and promote the direct selling industry and to contribute to its prosperity in the region and it held March 28th 2017, Intercontinental Hotel Dubai Festival City
The first B2G and B2B Direct Selling Forum in the MENA region, this pivotal event will take place on March 28th, 2017 at the Intercontinental Hotel Dubai Festival City with the aim of connecting the direct selling industry with regional governments and the community. An industry generating US$ 200billion per year with the involvement of over 100 million people worldwide.
The regional direct selling industry is currently booming having a positive socioeconomic impact on commerce, tourism, M.I.C.E, and entrepreneurship. The UAE alone is spearheading developments in multiple fronts with Dubai being a global hub for business and tourism and one of the best platforms for growth of the industry. "Today the UAE is seriously pursuing the growth of the direct selling industry for it strengthens the country and economy not only by driving your own success but by offering opportunity to others" – H.E. Mohammed Bin Abdulaziz Al Shehi, Director General, Ministry of Economy UAE.
The event will feature representatives and dignitaries of local and regional governments, executive leadership team of the World Federation of Direct Selling Associations (WFDSA), more than 20 direct selling association representatives from the Asia Pacific region and Europe, direct selling companies operating or with a keen interest in the MENA market, as well as individuals and entrepreneurs who see the opportunity for growth and potential impact on the community.
Organized by the Direct Selling Association of UAE (DSA UAE) with full support of WFDSA and other stakeholders in the public and private sectors, together with esteemed speakers from Department of Economic Development, Dubai Chamber of Commerce & Industry, Department of Tourism and Commerce Marketing, WFDSA and direct selling associations, we look forward to sharing an in-depth day of key topics that will shape the future of the industry in the region.
To learn more, visit www.directsellingforum.me.
About DSA UAE
Established in 2012, Direct Selling Association of UAE (DSA UAE) is a trade association serving direct selling and network marketing companies engaged in the business of person-to-person selling. The association represents the interests of its members and promotes and protects the direct selling industry as a legitimate, viable, and feasible business model in the UAE and the Middle East.
Currently DSA UAE has 9 direct selling members: DXN, Edmark, Forever Living, Juice Plus, Jeunesse, LEO, PMI, Thermomix, and Unicity. The association has also 2 supplier members: LINKVIVA Live Communications, and Al Rostamani Travel and Holidays. To learn more, visit www.dsauae.ae