Tupperware Rep Earns Third Company Car
March 29, 2017
By Team Business For Home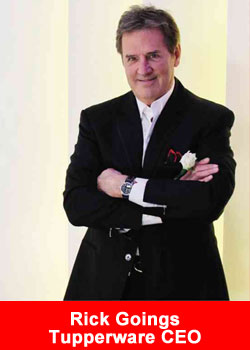 Being the best at something in your city is a good achievement. Surpassing everyone else in your state is a feat few can claim.
But Stephanie Meester of Lynden, Washington, USA has reached unparalleled heights – she's the only one among more than 100,000 independent Tupperware consultants in the United States and Canada to earn a third Mustang convertible for reaching sales goals earlier this year.
Nobody else in the history of Tupperware, which has provided food preparation, storage and serving solutions since 1946, has accomplished the feat.
The goals are based on Meester's previous sales. For an 18-month period ending in January, Meester's team of 75 people throughout the country sold nearly $1.3 million in products – tremendous growth since she earned her second Mustang in 2013 with nearly $700,000 in team sales.
Meester gives credit to Tupperware's ability to create new products and adapt to changing times. The company has developed containers that keep produce fresh two to four times longer as well as some that can be used in microwaves, keeping food healthy and tasty in contrast to containers of yesteryear.
And while many consultants still focus on home parties where a customer invites friends, other consultants emphasize working online, reaching people through Facebook, Twitter and Pinterest. Meester also believes Tupperware's incentives are much better than other companies utilizing relationship-based selling.
But Meester says one factor that is a key to success hasn't changed.
"I've always known it's about hard work," she said. "Everything I do I want to be the best I can be."
Source: whatcomtalk.com
About Tupperware
Through an independent sales force of 3.1 million, Tuperware Brands is the leading global marketer of innovative, premium products across multiple brands utilizing social selling.
Product brands and categories include design-centric preparation, storage and serving solutions for the kitchen and home through the Tupperware brand and beauty and personal care products through the Avroy Shlain, BeautiControl, Fuller Cosmetics, NaturCare, Nutrimetics, and Nuvo brands.
The Company's stock is listed on the New York Stock Exchange (NYSE: TUP)