Isagenix Founders Jim And Kathy Coover Recognized With Leadership Award
April 24, 2017
By Team Business For Home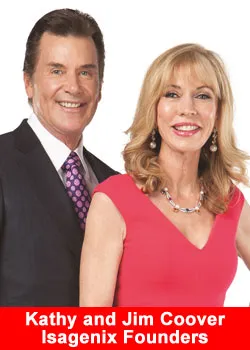 The 2017 Bravo Awards honor individuals and companies for exceptional achievements in 2016.
The Bravo Leadership Award goes to direct selling executives who embody exceptional leadership qualities – providing inspirational vision for their company, motivating their teams toward a common goal, serving others by equipping them with the best resources, and empowering their employees to reach new heights.
"We are so honored to be recognized as inspirational leaders," said Kathy Coover, Isagenix co-founder and executive vice president.
"I truly believe it is a leader's energy and enthusiasm that inspires others to take action. It's our job to set the strategy and direction so our employees and associates can work together as One Team to achieve our vision."
"As leaders, I think we have an incredible opportunity to step up and demonstrate to the world what a powerful distribution channel we are, and more importantly, what a powerful agent of change we can be," added Jim Coover, Isagenix co-founder and chief executive officer.
Isagenix was also recognized at the event ranking amongst industry leaders as No. 26 on the DSN Global 100 list. Since its inception 15 years ago, Isagenix has rapidly moved up the ranks from No. 50 in 2009 due to steady growth and global expansion into 12 countries.
In March 2017, Isagenix also announced crossing $5 billion in cumulative revenue life-to-date and progressing toward the company's $1 billion in annual revenue goal for 2017.
"The excitement and energy we are experiencing at Isagenix is shared by everyone who partners with us across the globe, including our dedicated associates, customers, and employees. This ranking belongs to all of them. Together, as One Team, we are making our world a healthier place," said Travis Ogden, Isagenix president and chief operating officer.
About Isagenix International
Established in 2002, Isagenix provides systems for weight loss, energy, performance, healthy aging, and wealth creation. With more than 550,000 customers worldwide and more than 100 life-changing products, packs, and systems globally, the company is committed to producing Solutions to Transform Lives™.
In 2016, Isagenix reached nearly $1 billion in global sales through an independent network of associates in the U.S., Canada, Puerto Rico, Hong Kong, Australia, New Zealand, Taiwan, Mexico, Singapore, Malaysia, Colombia, and Indonesia. Isagenix is a privately owned company with headquarters in Gilbert, Arizona. For more information, visit Isagenix.com.