Jeunesse Arena Opens In Rio de Janeiro To Crowd Of 17,000
April 19, 2017
By Team Business For Home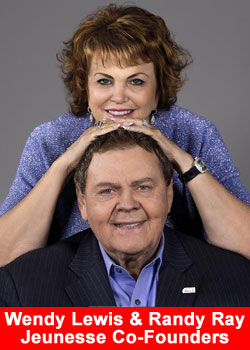 Marking the first anniversary of its launch in Brasil, global youth enhancement company Jeunesse held a spectacular grand opening event April 7th for the newly-minted Jeunesse Arena in Rio de Janeiro, Brasil. The event drew an incredibly energetic crowd of 17,000 Jeunesse Distributors.
Jeunesse Co-Founders, Randy Ray and Wendy Lewis along with Chief Visionary Officer, Scott Lewis and his wife Isabel Lewis were on hand to kick off the event with an exclusive performance by Brasilian pop star, Anitta, who famously performed at the opening ceremony of the 2016 Olympics in Rio.
In addition to the grand opening, Jeunesse held an action-packed first anniversary event the following day to celebrate the company's incredible inaugural year in Brasil where the market grew an amazing 966%, making it the company's fastest-growing market in 2016.
As part of the event, the company's nonprofit foundation, Jeunesse Kids raised 103,839 reales (approximately $33,000 USD) to renovate the out-patient waiting area and build a much-needed playroom for the Martagão Gesteira Hospital that serves children and adolescents from all over the state of Bahia in Brasil. The Jeunesse Kids playroom will provide a safe, comfortable and fun space for the 1,200 children that are seen each day.
Jeunesse Chief Visionary Officer, Scott Lewis commented,
"We are so proud of what Jeunesse Brasil has accomplished in just one short year, and what better way to celebrate than by gathering with 17,000 of our Jeunesse family to cut the ribbon on this world class Jeunesse-branded facility in beautiful Rio de Janeiro.
The Jeunesse Arena is just one of the ways Jeunesse is making its mark and becoming a household name in Brasil."
The three-year sponsorship puts the Jeunesse brand in front of the hundreds of thousands of people who will visit the Jeunesse Arena each year. In addition to naming rights, the agreement includes external and internal brand activation opportunities including building signage and advertising space, an official Jeunesse shop allowing customers and Distributors to pick up Jeunesse products on-site, a private branded suite, electronic scoreboard advertising and surrounding area street signage.
Prior to transforming into the Jeunesse Arena, the facility was home to the popular gymnastic events in the 2016 Summer Olympic Games. Its impressive facilities and location attract top performing artists and events year-round. Upcoming Jeunesse Arena performances include two hugely popular recording artists — Grammy Award-winning, Ed Sheeran and platinum recording artist, Ariana Grande.
About Jeunesse
Jeunesse is a global direct selling company with a mission to positively impact the world by helping people look and feel young, while empowering them to unleash their potential. The company's exclusive skin care and nutritional products form a comprehensive Youth Enhancement System.
With multilingual customer service, back office support and a global enrollment system, Jeunesse utilizes a cutting-edge platform to share innovative products, training and support through 32 fully operational offices to markets in over 140 countries. Learn more at jeunesseglobal.com.