Jeunesse Receives Bravo Growth Award And Ranks No. 14 On DSN Global 100
April 20, 2017
By Team Business For Home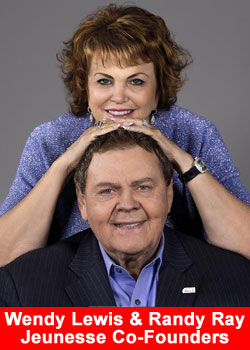 Global youth enhancement company Jeunesse was honored Wednesday night at the Direct Selling News Global 100 Celebration in Dallas with the Bravo Growth Award, recognizing its increase in annual sales by $1 billion over a two-year period — from approximately $400 million in 2014 to $1.4 billion in 2016.
The event honors the leading companies in the industry through DSN's annual Global 100 list of the world's largest direct selling companies.
After breaking into the top 20 in 2016, Jeunesse advanced to the No. 14 spot on the 2017 Direct Selling News Global 100 list.
Jeunesse has enjoyed extraordinary growth since its inception in 2009, with an average annual growth rate of 90%. In 2015, the company became the youngest direct seller to reach billion-dollar annual sales, and ranked No. 481 on the Inc. 500 list of fastest-growing private companies in America.
Jeunesse has continued its growth trajectory, finishing 2016 up more than $300 million, with sales of $1.4 billion.
Chief Visionary Officer Scott Lewis was on hand to accept the award and commented,
"We are pleased to have been chosen by Direct Selling News as their 2017 Bravo Growth Award recipient and appreciate this meaningful recognition.
In addition, it is truly an honor to be listed among the top 15 companies in our industry, and we are grateful for the hard work and dedication of our Jeunesse family from across the globe, who we congratulate for making this accomplishment possible."
This is the sixth year Jeunesse has been recognized on the DSN Global 100, making its debut on the list in 2012 in only its third year of business.
Jeunesse has quickly climbed the ranks and is now situated among the top 15 direct selling companies in the world, representing more than $48.5 billion in combined sales.
Now in its eighth year, the Direct Selling News Global 100 is the most prestigious ranking of direct selling companies in the world.
About Jeunesse
Jeunesse is a global direct selling company with a mission to positively impact the world by helping people look and feel young, while empowering them to unleash their potential.
The company's exclusive skin care and nutritional products form a comprehensive Youth Enhancement System. With multilingual customer service, back office support and a global enrollment system, Jeunesse utilizes a cutting-edge platform to share innovative products, training and support through 32 fully operational offices to markets in over 140 countries. Learn more at jeunesseglobal.com.