New Membership Record For LegalShield
April 5, 2017
By Team Business For Home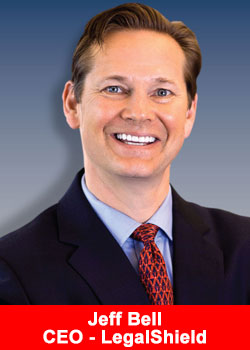 LegalShield, one of North America's leading providers of affordable legal plans and the IDShield identity theft solution for individuals, families and small businesses, announced today that it has grown its membership base to 1,633,613 members.
Under the leadership of CEO Jeff Bell, the company started its 45th year of operation with an all-time high number of memberships as well as greater recruiting volume, due in part to LegalShield's having brought its full range of offerings to all 50 states as well as its having debuted Launch by LegalShield, its newest product, at South By Southwest last month.
"We have seen great success recruiting millennials, a trend that is sure to continue," said Bell.
"Millennials are embracing the sharing economy. Working as a LegalShield Associate provides flexibility and independence, two qualities that this generation highly values."
"Since the announcement of Symantec's acquisition of Lifelock, we have also seen robust growth in our direct to consumer channel for IDShield, our identity theft solution," added David Coffey, LegalShield's Senior Vice President, Chief Digital Officer.
"With leadership from our colleague Glenn Petersen, President of LegalShield's Business Solutions, we set the bar higher for excellent and innovative service and have gained significant traction in the business solutions segment of the marketplace," continued James Rosseau, LegalShield's Chief Commercial Officer.
About LegalShield
LegalShield is one of the North America's leading providers of legal safeguards for individuals, families and small businesses.
The company also offers one of the industry's most affordable and comprehensive identity theft plans, IDShield. LegalShield plans provide protection to more than 4.2 million individuals, and IDShield provides identity monitoring and restoration services to more than one million individuals across North America. In addition, LegalShield and IDShield serve more than 141,000 businesses.
For as low as $20 per month, LegalShield members get access to attorneys with an average of 19 years of experience in areas such as family matters, estate planning, financial and business issues, consumer protection, tax, real estate, benefits disputes and auto/driving issues. Unlike other legal plans or do-it-yourself websites, LegalShield has dedicated law firms in 50 states and four provinces in Canada that members can call for help without having to worry about high hourly rates.
For more information, visit www.LegalShield.com or www.IDShield.com