ARIIX Announces First Multimarket Founders Club Member
May 13, 2017
By Team Business For Home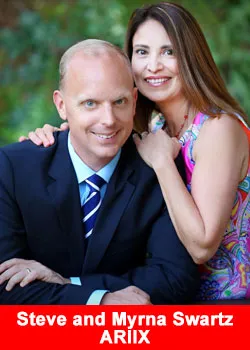 On May 6, 2017, during the ARIIX European Executive Tour, Steve and Myrna Swartz became the first-ever multimarket ARIIX Founders Club Member.
The ARIIX Founders Club is an industry-first approach, which grants rights and benefits to members equal to the owners of the company. Steve and Myrna are the first to hold these rights in more than one market.
The rights and benefits bestowed to Founders Club Members include an official vote in compensation plan changes, the ability to overturn contract terminations, the position of final judge and jury for Representative compliance matters and participation in the distribution of profits for their market, alongside the owners.
Founders Club members demonstrate remarkable character and leadership, adhere to compliance policies and procedures, are top income earners, and hold an exceptional reputation in the field.
Steve and Myrna were first inducted into the Founders Club in the U.S. in 2014 and now in Europe.
"On behalf of all of the ARIIX owners, I'd like to say how proud we all are of Steve and Myrna's collective achievements,"
says Fred Cooper, ARIIX CEO and Founder.
"In order for a Representative to be inducted into the Founders Club, a unanimous vote of all seven owners has to be reached. Steve and Myrna have not only accomplished this once, but twice! That's an incredible feat and well deserved."
The Founders Club is the pinnacle of success at ARIIX and the highest honor achievable. Every ARIIX Representative has an equal opportunity to fulfill the requirements and become an ARIIX Founders Club Member. Currently, there are 20 members. To find out more information about the ARIIX Founders Club, visit ariix.com/founders-club.
About ARIIX
ARIIX is an international direct selling company that creates efficacious, toxin-free products marketed through independent representatives.
The ARIIX opportunity and brands are available in Australia, Canada, Greater China including Hong Kong SAR and Taiwan SAR, Japan, Kazakhstan, Mexico, The Netherlands, UK, Belgium, Russia, Singapore, South Korea and the United States. For more information, please visit ariix.com or call 1-855-462-7449.