Herbalife Q1 Sales Up 1% To $1.1 Billion
May 5, 2017
By Team Business For Home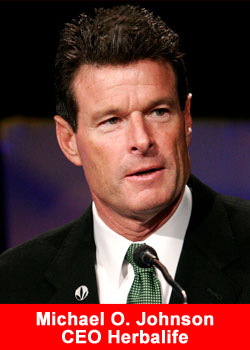 We've made a solid start to 2017 exceeding our EPS guidance, said Michael O. Johnson, Chairman and CEO, Herbalife.
As we transition this June to our new CEO Rich Goudis and my role as Executive Chairman, we are more resolute than ever in making a profound and lasting effect on the nutritional habits of the world and offering people an opportunity to earn in the process.
Healthy living is a growing aspiration for more and more consumers worldwide and we are well positioned to capitalize on this trend. We offer a powerful person-to-person alternative to traditional retail, where consumers give our distributors permission to help them with our extensive range of nutrition products.
For the first quarter 2017, the company reported net sales of $1.1 billion and volume point growth of 1% compared to the prior year period. China sales and volume significantly exceeded expectations primarily due to the impact on timing of sales and volume resulted from a price increase announced in March 2017, effective April 1st, 2017, that we believe shifted member purchases into the first quarter that would likely have been made in the second quarter of this year.
The expected negative impact to second quarter sales and volume is included in current guidance.
On a reported basis, first quarter net income was $85.2 million, or $0.98 per diluted share, compared to net income of $95.8 million, or $1.12 per diluted share, for the first quarter of 2016.
Adjusted1 earnings for the first quarter was $1.24 per diluted share compared to $1.352 per diluted share for the first quarter of 2016.
Due to currency fluctuations, first quarter 2017 reported and adjusted1 net income were each negatively impacted by $9.0 million, or $0.10 per reported diluted EPS and adjusted1 diluted EPS.
For the full year 2017, the company is raising its previously issued reported and adjusted diluted EPS guidance to a range of $3.25 to $3.65 and $4.05 to $4.45, respectively; up from the previous ranges of $2.95 to $3.35 and $3.65 to $4.05 respectively.
About Herbalife Ltd.
Herbalife is a global nutrition company that has been changing people's lives with great products since 1980. Our nutrition, weight-management, energy and fitness and personal care products are available exclusively to and through dedicated Herbalife Independent Members in more than 90 countries. We are committed to fighting the worldwide problems of poor nutrition and obesity by offering high-quality products, one-on-one coaching with an Herbalife Member and a community that inspires customers to live a healthy, active life.
We support the Herbalife Family Foundation (HFF) and its Casa Herbalife programs to help bring good nutrition to children in need. We also sponsor more than 190 world-class athletes, teams and events around the globe, including Cristiano Ronaldo, the LA Galaxy and champions in many other sports.
The company has over 8,000 employees worldwide, and its shares are traded on the New York Stock Exchange (NYSE: HLF) with net sales of approximately $4.5 billion in 2016. To learn more, visit Herbalife.com or IAmHerbalife.com.
The Herbalife Investor Relations website at https://ir.herbalife.com contains a significant amount of financial and other information about the company. The company encourages investors to visit its website from time to time, as information is updated and new information is posted.