Michael Hansen Awarded Prestigious CEO Of The Year Award
May 18, 2017
By Team Business For Home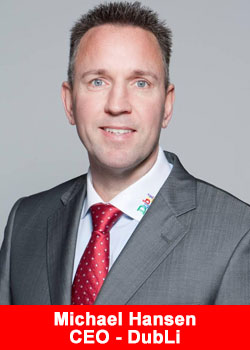 UK-based, Acquisition International, has awarded Ominto, Inc., parent company of DubLi Network, Founder and CEO, Michael Hansen, with the prestigious 2017 USA Business Executive Award for CEO of the Year.
The magazine published an in-depth interview with Mr. Hansen while characterizing the company as the Leader in Global Online Cash Back Shopping in their May 2017 issue.
The magazine, targeted at the investment community, awarded Mr. Hansen the cover feature story with a photo from the company's recently successful uplisting to the Nasdaq Capital Market.
The article takes in-depth look at Mr. Hansen's ongoing ability to innovate within the competitive Cash Back industry. Mr. Hansen provides insights into the many ways in which the company is tackling the B2C and B2B2C market and as well as the company's new strategies for growth.
Mr. Hansen explains how the success of the company is not only based on the growth within the Cash Back segment but also its internal procedures that set them apart.
When discussing what makes DubLi.com different, he noted,
"Cash Back is a unique business model where the revenue stream is based on a behavior by which consumers are already engaged.

The appeal of the Cash Back value proposition is straightforward: join or sign in, choose your favorite store, shop and earn."
With more than a decade of expertise in this market sector, Mr. Hansen exemplifies why DubLi.com is able to remain a pioneer in global online Cash Back shopping.
The comprehensive interview is an opportunity to learn more about the business acumen of an accomplished CEO and his opinions on why cash-based loyalty programs like DubLi.com are a necessity in the digital age.
About DubLi Network
DubLi Network is a worldwide network marketing business that allows entrepreneurs to build a business by marketing the DubLi.com online shopping website and co-branded BSP Rewards Partner Program.
DubLi Network offers people from all walks of life a flexible business opportunity to build a career or a secondary source of income by generating earnings from the products and services that consumers buy online every day. The business, which has BAs operating in over 100 countries, rewards BAs for their sales and marketing efforts through a referral-based income.
DubLi Network is one of the top ten largest public direct selling companies in the world, and as the business continues to grow, so do the opportunities for BAs.