Nature's Sunshine Products Receives Direct Selling License In China
May 22, 2017
By Team Business For Home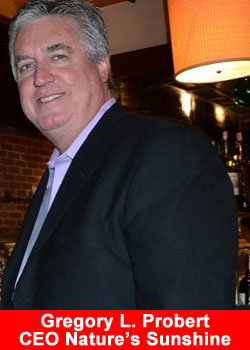 Nature's Sunshine Products (NASDAQ: NATR), "the Company", a leading natural health and wellness company engaged in the manufacture and direct selling of nutritional and personal care products, today announced that it has received its direct selling license from MOFCOM, China's Ministry of Commerce.
The license allows Nature's Sunshine to begin to expand its business scope, including direct selling activities within China. Headquartered in Shanghai, a leading economic center with an urban population of more than 24 million residents, Nature's Sunshine China began to apply for the direct selling license with MOFCOM following the formation of a joint venture with Shanghai Fosun Pharmaceutical (Group) Co., Ltd. (Fosun Pharma), a leading, local healthcare company, in 2014.
The joint venture was the first of its kind between a U.S. company and a Chinese company for direct selling products in China, representing a significant competitive differentiator in the marketplace.
"We are greatly honored to receive our license from the People's Republic of China,"
commented Gregory L. Probert, Chairman and Chief Executive Officer.
"This marks an important step toward realizing the vision and potential we saw when we joined forces with Fosun Pharma almost three years ago. By bringing Nature's Sunshine to the people of China, we are opening a tremendous new chapter and growth opportunity in our Company's 45-year history, and fulfilling our mission to transform lives around the world through our innovative, industry-leading products."
"This is the culmination of more than two years of hard work and dedication in laying the foundation of Nature's Sunshine China,"
said Paul E. Noack, President of China and New Markets.
"Today is an historic day for our Company, as this license makes it official that Nature's Sunshine's direct selling business has arrived in China. Having made significant investments over the last couple of years, building the infrastructure to support the commencement of operations, we are in a position to begin direct selling activities in the near- term. We are immensely proud of the accomplishments of the China management team, and we are optimistic about the opportunity the China market provides."
China is the world's second largest direct selling market in terms of retail sales, according to 2015 data from the World Federation of Direct Selling Associations. In 2015, direct selling retail sales in China increased 19.0% to USD $35.5 billion and accounted for 19.3% of global sales.
About Nature's Sunshine Products
Nature's Sunshine Products (NASDAQ: NATR), a leading natural health and wellness company, markets and distributes nutritional and personal care products through a global direct sales force of approximately 539,000 independent Managers, Distributors and customers in more than 40 countries.
Nature's Sunshine manufactures most of its products through its own state-of-the-art facilities to ensure its products continue to set the standard for the highest quality, safety and efficacy on the market today.
The Company has four reportable business segments that are divided based on the characteristics of their Distributor base, similarities in compensation plans, as well as the internal organization of NSP's officers and their responsibilities (NSP Americas; NSP Russia, Central and Eastern Europe; Synergy WorldWide; and China and New Markets).
The Company also supports health and wellness for children around the world through its partnership with the Sunshine Heroes Foundation. Additional information about the Company can be obtained at its website, www.naturessunshine.com.