Nerium International Introduces Youth Factor
May 4, 2017
By Team Business For Home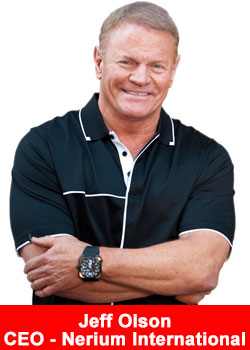 Today, Nerium International, a global relationship marketing company specializing in age-fighting products rooted in cutting edge research and science, introduces YOUTH FACTOR™ Complete Vitality Complex and Superfood & Antioxidant Boost, a duo of nutritional supplements—one a tablet, the other a powder—to support cellular vitality and antioxidant functions that address overall wellness and the signs of aging.
Nerium International undertook the mission to create a first-of-its-kind, streamlined wellness solution that provides age-fighting benefits both internally as well as externally. Instead of a handful of pills and an overwhelming regimen, in one simple solution, people can get age-fighting benefits for body, cells and skin.(*)
Why aging happens
As we age, our mitochondria begin to break down. Scientists believe this is a major contributor to the aging process and causes sluggishness in both how we look and feel. The good news is mitochondrial health can be protected and restored through key nutrients and antioxidants found in a variety of superfoods. However, most people lack the necessary enzymes to break down, absorb, and utilize these longevity nutrients for optimal age-fighting benefits.
Nerium International has the exclusive license to the Youth Factor™ Enzyme Blend that helps unlock the age-fighting properties of healthy foods. In addition, Nerium also has the patent-pending antioxidant Complex NAA™ – a blend of goji berry, Korean mint and fig, and ingredients such as CoQ10, PQQ and Primavie® Shilajit that help restore vim and vigor to cells. These ingredients work together in Nerium's Youth Factor formula to support brighter, smoother, more youthful-looking skin—from the inside out.
Arriving this month as a one-a-day tablet, Youth Factor Complete Vitality Complex contains both the Youth Factor Enzyme Blend and Complex NAA™ that help with:
Cellular energy support. *

Free radical defense. *

Strengthening the immune system. *

Reducing the appearance of wrinkles. *

Revealing brighter-looking skin. *
For most, that's simply not enough. Our cells' mitochondria not only need a boost, but they also need the best fuel possible. For that, Nerium introduces a supplemental powder featuring hearty servings of antioxidant-rich fruits and vegetables—far more than most would be able to consume from their diets alone. Youth Factor Superfood & Antioxidant Boost helps to balance the body's pH levels to help maintain well-being. It is designed to work in concert with Youth Factor Vitality Complex (tablet) for optimal benefits, to help:
Keep the body at its optimal alkaline state.*

Defend against free radical damage.*

Improve the body's ability to absorb the most beneficial ingredients in supplements and food.*

Reduce the appearance of fine lines and wrinkles.*
What many are missing in the plant-diet-skin connection
A plant-based, antioxidant rich diet is the foundation of good health, and especially for skin. What most don't know is that the biggest benefits of plants are derived from polyphenols, naturally occurring compounds that protect plants from disease, environmental assaults and aid in injury recovery. Some commonly known polyphenols include resveratrol (from red wine) and ptersotilbene (from blueberries). A subset of polyphenols, called flavonoids (which give fruits, vegetables and flowers their vibrancy), is extremely beneficial due to their antioxidant properties. They can be found in fruits, vegetables, legumes, red wine and green tea.
However, specific enzymes are required to break down the bonds of these flavonoids into a bioavailable form for the body to absorb the nutrients contained within. This is where Nerium's proprietary Youth Factor™ Enzyme Blend comes in to assist where the body's own mechanisms may fall short.
A word about pH balance
When our bodies and skin are in an alkaline state, healing and health occurs. Acidity, on the contrary, causes dozens of different diseases. Overly acidic foods include salt, sugar, refined flour, animal fats, red meats and dairy products while alkaline foods include fruits, vegetables, nuts, seeds and whole grains. Youth Factor Superfood & Antioxidant Boost helps maintain the body's alkaline balance by delivering a daily dose of potassium, magnesium, and multiple B vitamins, which play an important role in skin health—from improving moisture retention to helping with acne breakouts to assisting the body convert food to fuel.
Nerium prides itself on bringing the latest science and exclusive innovative ingredients to its portfolio of age-fighting products for skin, body and mind, says Amber Olson Rourke, CMO, Nerium. Our mission with the Youth Factor products was to offer a solution to universal aging signs that everyone experiences. The Complete Vitality Complex and Superfood & Antioxidant Boost are Nerium's simplified solution to age-fighting from the inside out in a holistic way that can fit into anyone's lifestyle, whether they are just beginning their wellness journey or looking to enhance their wellness regimen.
Youth Factor Complete Vitality Complex and Youth Factor Superfood & Antioxidant Boost arrived on May 1 at Nerium.com and are also available for purchase from an Independent Brand Partner in the U.S. For additional information, see product video here.
Recommended dosages
Youth Factor Complete Vitality Complex—As a dietary supplement, take one tablet daily with food. Take with Youth Factor Superfood & Antioxidant Boost for synergistic benefits.
Youth Factor Superfood & Antioxidant Boost—Add one (1) packet to eight (8) ounces of cold water, juice, or in your favorite smoothie and mix well. Consume within 15 minutes after opening. Use in conjunction with Youth Factor™ Complete Vitality Complex for optimal benefits. Box contains 30 drink powder packets.
*These statements have not been evaluated by the Food and Drug Administration. This product is not intended to diagnose, treat, cure or prevent any disease. †Keep out of reach of children. Store at 15-30 °C (59-86°F). Protect from heat, light and moisture. Do not purchase if packaging has been tampered with.
About Nerium International
Based in Addison, TX, Nerium International is a global relationship marketing company with Age-Defying products crafted from cutting-edge research and science. Founded in 2011, Nerium International has shattered industry sales records while developing a strong customer base in North American, Latin American and Asia-Pacific markets.
This unprecedented success has allowed Nerium International to generate $1 billion in cumulative sales after just four years. Nerium International was recognized for its historic growth by ranking No.1 on the 2015 Inc. 500 List of fastest-growing private U.S. companies in consumer products and services and No. 12 in overall, as well as No. 38 on the 2016 Direct Selling News' Global 100 List.
Led by an executive leadership team with vast domestic and international experience, Nerium International is committed to providing an excellent product line based in real science and providing its Independent Brand Partners with a life-changing and outstanding business opportunity through relationship marketing. For more information, please visit: www.nerium.com.