Plexus Worldwide Named #39 On DSN Global 100 List
May 4, 2017
By Team Business For Home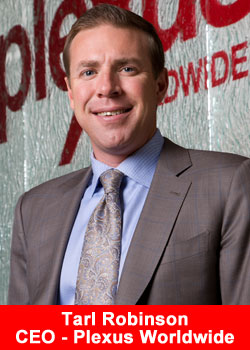 Plexus Worldwide, a leading direct-selling health, wellness and weight management company, was just recognized by Direct Selling News (DSN) as the #39 globally on its List of Top Revenue Generating Direct Selling Companies. Last year, the company ranked as #44.
Plexus was also recognized as one of only seven direct selling companies globally in the past year to increase sales over the past year by more than $100 Million.
The DSN Global 100 is a collective effort to show the impact and potential of the $182.8 billion direct selling channel. The 2017 ranking, unveiled online at DirectSellingNews.com and featured in the June issue of Direct Selling News (DSN) magazine, represents aggregate revenue of more than $80 billion from companies based in 17 countries. The new rankings mark growth for the company which last year came in at #28 on the North America 50 list and #44 on the DSNGlobal 100 list.
This isn't the first award presented this year to Plexus by DSN as it was named one of the "Best Places to Work" in the industry. Only ten other direct selling companies earned this recognition, and all were considered equal honorees and recognized collectively. The contest was open to all direct selling companies in North America with at least 50 employees. Further, DSN also named Plexus' CEO, Tarl Robinson and its Chief Information Officer, Mike Green to its list of top direct selling executives under 40 years old. Only 20 individuals in total made that list.
"We're excited to see Plexus Worldwide continue to grow and again move up on the impressive list of direct selling industry giants,"
said Tarl Robinson, CEO of Plexus Worldwide. "Just six years ago, Plexus had revenues of less than one million, and in 2016 Plexus surpassed $500 Million. Our growth numbers so far this year in 2017 show even more impressive figures, which we attribute directly to our amazing Ambassadors."
"Plexus Worldwide is making a huge impact in communities around the world, and being named on the DSN Global 100 list once again is just more proof that our Ambassadors love our products and are seeing excellent results," said Alec Clark, President of Plexus Worldwide. "Every employee of Plexus, and each Ambassador takes so much pride in our achievements, this ranking is a direct credit to their efforts."
"Each year, the DSN Global 100 gives us an opportunity to recognize the leading companies in direct selling today," said Lauren Lawley Head, Publisher and Editor in Chief of Direct Selling News. "The companies on the list represent a wide range of products and services, but they share a passion for developing a community of independent business owners who share those products and services with customers in their personal networks. It is a unique and powerful distribution channel."
About Plexus Worldwide:
Since its inception, Scottsdale, Arizona-based Plexus Worldwide has been helping people transform their lives with exceptional, science-based health and wellness products and an exciting home-based entrepreneurial opportunity.
Plexus has been featured on the Inc. 5000 list of fastest-growing companies, and was named the 39th largest direct selling company in the world in 2017, according to Direct Selling News (DSN). Plexus' core beliefs are simple: Be Trustworthy, Be Honest, Be Reliable, and Be Responsible. For more information about Plexus Worldwide visit www.plexusworldwide.com.