Vu Van Diep and Victor Bui Achieves President Rank At WOR(l)D Global Network
May 17, 2017
By Team Business For Home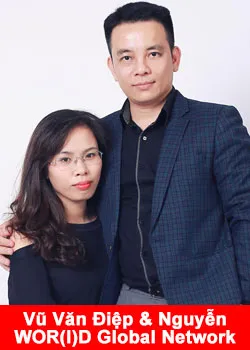 To our great pleasure, WOR(l)D is successfully establishing its name in Vietnam. This great success is due to our dedicated and talented Vietnamese leaders. This is how two of these leaders, Vu Van Diepp and Victor Bui, made their start in WOR(l)D.
Vu Van Diep
My name is Vu Vn Diep (Danny Vu) and my wife is Nguyen Thi Quynh. We come from the "Flamboyant City," Hai Phong, Vietnam. Our city is flaming, eventful, and friendly, and our country is beautiful, peaceful, and fascinating. We love our country so much and are so proud to present it to the world. It's an honor to be recoginized in Business For Home as some of the first Vietnamese people to reach the rank of President in WOR(l)D Global Network.
Vietnam is on its way to developing an integrative, dynamic economy, and many areas are on the pathway to development. Network marketing is one of these areas. In the past, I loved network marketing, but some defective companies made a bad reputation for the industry in Vietnam. After witnessing those network marketing companies cause scandals and loss for many people in my country, I quit the industry and focused on traditional business. Three times I rejected the oppotunity to join WOR(l)D Global Network because of my impressions of the field.
Around this same time, my father got severely ill and my family lost a loved one to heart desease. Two days after my loved one had passed, I accepted my beloved uncle Nat Puranaputra's invitation to join WOR(l)D because I knew that WOR(l)D Global Network is a technology company that has the most innovative wearable device—the Helo—that can monitor wellness. I felt the need to bring this product to my loved ones and the people of Vietnam, so I made a strong decision to fight and to commit to WOR(l)D.
Day by day, with maximum and enduring determination, I am still experiencing a wonderful career. I am bringing a solution to my community by helping them to actively monitor their wellness by using a high-class, smart, wearable device called the Helo LX. I am helping many people to get jobs and careers.
I am making my best efforts for the network marketing industry in Vietnam in order to build a legal way to be successful.
Thanks to Vietnam's government, illegal network marketing individuals and companies have been eliminated. I have made up my mind to be a network marketing leader in Vietnam, and I will cheer as the Vietnamese come out to conquer the world. We hope to make a positive contribution to our national movement.
My wife, my two beloved daughters, and I can all be proud that I have a successful career with WOR(l)D Global Network. Together we enjoy our peaceful life, and we know that we are helping many people. Today, as I step into WOR(l)D leadership as a President, I am proud of both myself and my country.
I am grateful for Mrs. Snow Bui – General Manager of WOR(l)D in Vietnam. She is a competent, contributive, and high-standards leader. I am also grateful for Mr. and Mrs. Nat and Chanida Puranaputra; they gave me this opportunity and guided me carefully. Finally, I thank my partners inside and outside of the country. They have been trusted advisors and good company since my very first days at WOR(l)D.
I will continue on the road to further success in 2017, and I will concentrate on my job to help more Vietnamese protect their wellness and also be honored in Business For Home like me. My personal goal for this year is to be the first Vietnamese network marketer to stand in the top one hundred MLM earners as showcased on businessforhome.org.
Victor Bui
I am Vi (Victor Bui) from Vietnam, and I love my country.
I have owned my own businesses for thirty years, covering everything from construction to food processing. I live a safe and stable life—the kind of life that many people dream of living. There are few people like me in my society; I am lucky.
My interests include composing music, traveling, and enjoying the change of life. However, throughout thirty years of business, I was too busy to enjoy those things. I was successful, but I was also very tired, and my health started to deteriorate. Because of this, I desired to spend more time doing the things I enjoy. I wanted to spend more time with my family, and I wanted to transfer my knowledge to the next generation to help others succeed.
Then I learned about network marketing, and I saw a solution to the problem I was facing.
I realized I could help others to succeed and give them opportunities to build healthy startups. In the meantime, I could retire and live joyfully.
With the help of the passion, policies, and opportunities WOR(l)D offers, I became a President in a very short amount of time. I believe this is a new starting point for me, a new future. As a businessman, I want to invest in this new field. I know WOR(l)D Vietnam is at its very start, and I can see its potential. Because of my passion and love for my country, I am sure that WOR(l)D Vietnam will soon be known globally.
About WOR(l)D GN
With an Headquarter in MIAMI, USA, WOR(l)D stands apart as a leader in the global markets of media, mobile and wearable technologies. In the 15 offices distributed in all the continents, WOR(l)D is employing the brightest minds and best professionals, constantly investing in great ideas and highly motivated people. Every WOR(l)D product reflects its passion for research, innovation and environmental responsibility.
WOR(l)D is a recognized as a leading player in the drive towards a more economically stable, socially connected world. Leveraging a new business paradigm, WOR(l)D seeks to transcend every social and economic boundary. Using innovative products and a proven, direct selling business model wor(l)d is helping people around the globe to transform their lives—and their livelihoods.
For more information please visit www.worldgn.com