WorldVentures Ranks 25 On Direct Selling News' Global 100 List
May 9, 2017
By Nicole Dunkley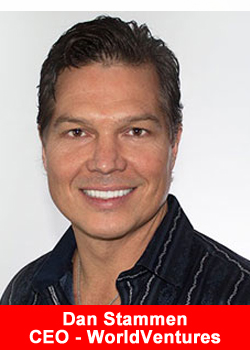 WorldVentures™, the leading direct seller of global travel and leisure club memberships, is proud to announce a seven place jump, from 32 to 25, in its 2017 ranking on Direct Selling News® (DSN) magazine's Global 100 list.
"Our vault through the Global 100 ranks is proportional to our growth in the industry, and we are both honored and humbled to be recognized by such a prominent publication," said WorldVentures Founder and Chief Visionary Officer Wayne Nugent.
"We accept this recognition as a challenge to continue seeking innovate ways to serve our DreamTrips Members and WorldVentures Representatives."
Direct Selling News is the leading trade publication for the direct-selling industry, and its coveted annual list is the most prestigious ranking in the world for direct-selling companies, both public and private.
The list offers a unique perspective on the global economic and social impact of the industry, while providing insights for independent representatives as well as researchers, investors and those seeking opportunities in the field. Contenders are assessed based on revenues starting in December each year and winners are announced the following April at the Global 100 Celebration. The results will be published in the magazine's June 2017 issue.
About the Direct Selling News Global 100 List
Direct Selling News is the only publication dedicated to serving direct selling and network marketing executives. It is a controlled-circulation, monthly magazine with an audience of over 6,500 subscribers. Since 2004, Direct Selling News has been dedicated to telling stories focused on relating the opportunities direct sellers provide to millions of independent business owners around the globe. It seemed only fitting to further recognize the industry by compiling a comprehensive list, starting in 2010, of the top direct-selling companies in the world.
About WorldVentures
WorldVentures is a privately held company based in Plano, Texas, that sells travel and leisure club memberships providing a diverse set of products and experiences. The company's goal is to help Independent Representatives, DreamTrips™ Members and employees achieve more fun, freedom and fulfillment in their lives. WorldVentures uses the direct sales model to go to market with active Representatives and members worldwide.