Young Living Essential Oils Acquires Life Matters
May 20, 2017
By Team Business For Home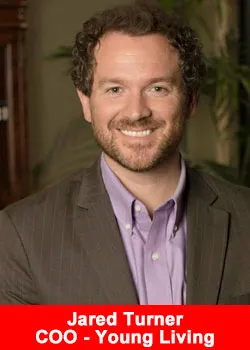 Young Living Essential Oils, the world leader in essential oils, today announced that it has made a non-cash acquisition of Life Matters.
A respected wellness company in the direct selling industry owned by Richard Bliss Brooke and Kimmy Brooke that has inspired people to share vitality, happiness, and longevity.
"Richard and Kimmy are legendary direct selling veterans," said Jared Turner, Young Living Chief Operating Officer.
"We share common cultures, goals, and missions. We are pleased to welcome them to the Young Living team."
In a similar way to Young Living, Life Matters has always inspired its members to discover vitality, happiness, longevity, and the power to live life to the fullest.
"Kimmy and I considered many options in the direct selling industry before choosing Young Living, and we've never been more excited about the next step in our vision to enhance the lives of others," said Richard Bliss Brooke, CVO and co-owner of Life Matters.
"We are honored to join such a respected company as Young Living, and we believe in its mission to share wellness, purpose, and abundance with people all over the world."
Young Living Essential Oils is the pioneer of pure, modern-day essential oils and distillation and continues to be a key influencer and leader in the global wellness movement.
About Young Living Essential Oils
Young Living Essential Oils, LC, is the world leader in essential oils, with a strict Seed to Seal® process that produces pure essential oil products for every individual, family, and lifestyle.
This process ensures that all products are genuine, free of synthetic chemicals, and pure. This commitment stems from the company's more than 20 years of stewardship toward the earth and its people. For more information, visit YoungLiving.com.
About Life Matters
Life Matters is a leading nutrition company located in Coeur d'Alene, Idaho, and offers four essential product lines: Life Shotz, a daily vitamin drink that works at the cellular level to revitalize mood;
VIBE, a superfood meal-replacement shake that gives the body the nutrients it needs; MIND, a cognitive nootropic that helps protect from cognitive decline and keep the mind sharp; and MOTION, a supplement for joint and total body health.
Life Matters is privately owned and powered by a network of Customers, Preferred Customers and Brand Representatives throughout the United States and Canada. To learn more, visit lifematters.net.