Avon CEO Sheri McCoy Is Expected To Step Down
June 15, 2017
By Team Business For Home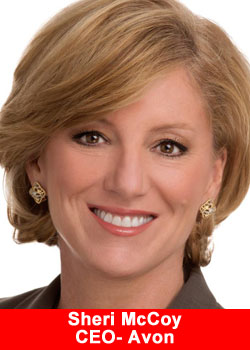 According to an article in Wall Street Journal:
Sheri McCoy, the CEO of cosmetics company Avon, is reportedly expected to step down.
The Wall Street Journal, citing people familiar with the matter, reports that the 58-year-old chief executive may be retiring. The terms of her potential departure, as well as details about a replacement, are not yet known.
McCoy's possible departure gave some investors hope, sending shares of the struggling makeup company up roughly 4.6% by the market's close Wednesday.
The company has struggled with declining sales and a sharp downtick in its stock price in recent years. In May, Avon's stock price dropped 22% in a single day, falling to $3.62.
That prompted two shareholders — Barington Capital Group LP and NuOrion Partners AG, which together own 3% of the company's stock — to urge the 131-year-old cosmetics brand to look for a new CEO.
Earlier this week, Avon announced that Miguel Fernandez, a former Herbalife executive, would take over as global president in August — replacing John Higson, who is set to retire in the fall, the Wall Street Journal reported.
About Avon Products, Inc.
Avon is the company that for more than 125 years has stood for beauty, innovation, optimism and, above all, for women. With nearly $9 billion in annual revenue, Avon products are sold through 6 million active independent Avon Sales Representatives worldwide.
Products include color cosmetics, skincare, fragrance, and fashion and home, featuring such well-recognized brand names as Avon Color, ANEW, Avon Care, Skin-So-Soft, and Advance Techniques.