Avon Products Inc. Appoints Miguel Fernandez As Global President
June 23, 2017
By Nicole Dunkley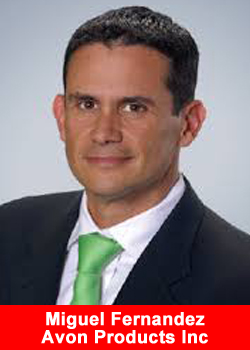 Avon recently announced the appointment of Miguel Fernandez as Global President, with responsibility for commercial business operations, effective August 14, 2017.
Miguel will report directly to Avon's Chief Executive Officer, Sheri McCoy, and will be based at Avon's headquarters in London. Miguel succeeds John Higson, who will be retiring in September from his role as Avon's Executive Vice President, Chief Commercial Officer, following 32 years with Avon.
Miguel is a seasoned executive with more than 20 years of operating experience, including significant international experience and a proven track record in the direct selling industry. He joins Avon following nearly ten years at Herbalife Ltd., where he most recently served as Executive Vice President and Managing Director for the Americas and Worldwide Member Operations. Previously at Herbalife, Miguel served as Senior Vice President and Managing Director of Mexico, and Vice President Finance & Distributor Operations.
Sheri McCoy, Chief Executive Officer of Avon said: "I am delighted to welcome an executive of Miguel's caliber to Avon's leadership team. Miguel's expertise in general management, global sales, marketing and operational excellence, will help us accelerate changes in our commercial operations and drive profitable growth."
McCoy continued, "On behalf of the entire Avon team, I would like to thank John for his countless contributions to Avon, and his many years of dedicated service to the Avon Representatives. We wish him all the best in his future endeavours."
Prior to joining Herbalife, Miguel was Chief Financial Officer at OCC Mundial and Business Controller for Microsoft in Mexico. His earlier career included roles in investment banking at JPMorgan Chase in New York, and financial management at Procter & Gamble. Miguel holds a Bachelor of Science in industrial engineering, with honors, from the Monterrey Institute of Technology in Mexico and a Master of Business Administration from Darden School of Business, University of Virginia.
About Avon Products, Inc.
Avon is the Company that for 130 years has proudly stood for beauty, innovation, optimizm and, above all, women. Avon products include well-recognized and beloved brands such as ANEW, Avon Color, Avon Care, Skin-So-Soft, and Advance Techniques sold through nearly 6 million active independent Avon Sales Representatives.
Products include color cosmetics, skincare, fragrance, and fashion and home, featuring such well-recognized brand names as Avon Color, ANEW, Avon Care, Skin-So-Soft, and Advance Techniques.