Isagenix Recognized By Direct Selling Association As 2017 Top 20 Company
June 9, 2017
By Team Business For Home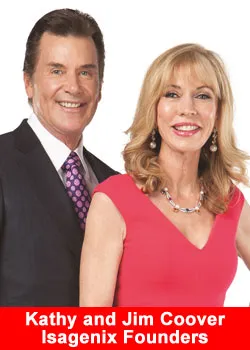 Isagenix International, a global leader in health and wellness products and solutions and Triple A classified by Business For Home, announced today that it has been named by the Direct Selling Association (DSA) to the 2017 DSA Top 20, a prestigious honor bestowed annually on the largest direct selling companies in the United States based on 2016 domestic net sales.
The company recently celebrated its 15-year anniversary in March of 2017, surpassing $5 billion in cumulative global sales since opening in 2012 and launching its 13th market in the U.K. in May of 2017.
"It's a great honor to be recognized this year at the DSA Annual Event amongst many of our peers in the industry," said Travis Ogden, Isagenix president and chief operating officer.
"Our employees and associates have worked so hard to earn this recognition, and it's no accident that we have reached so many amazing milestones in the past year. We look forward to what the future will bring as we continue to share our amazing products and solutions across the world."
In 2016, Isagenix generated a total output of $2.5 billion while impacting the U.S. GDP by over $1.5 billion and creating an employment impact of nearly 13,500 jobs in the U.S. alone.
"The DSA Top 20 member companies truly are leaders in our industry and should be applauded both for the opportunities they offer millions of Americans and for the significant contributions they make to the economy," said DSA president Joseph N. Mariano.
"It is my very great honor to congratulate each DSA Top 20 member company; not only for this prestigious recognition, but for the devotion they show day in and day out to their customers and salespeople by virtue of their membership in DSA. They set an example our entire business model should be proud to follow."
The DSA Top 20 is open exclusively to DSA members and based on the previous year's sales. Isagenix has been a DSA member since 2007.
A record 20.5 million people were involved in direct selling in the United States in 2016, a 1.5 percent increase from the previous year. Overall estimated direct retail sales of $35.54 billion in 2016 is the second highest in direct selling history. An infographic summarizing the report can be found at dsa.org/benefits/research.
To learn more about Isagenix, visit our website at Isagenix.com, subscribe to our blog at IsaFYI.com, like us on Facebook at Facebook.com/Isagenix, and follow us on Twitter and Instagram @Isagenix.
About Isagenix International
Established in 2002, Isagenix provides systems for weight loss, energy, performance, healthy aging, and wealth creation. With more than 550,000 customers worldwide and more than 100 life-changing products, packs, and systems globally, the company is committed to producing Solutions to Transform Lives™. In 2017, Isagenix surpassed $5 billion in cumulative global sales through an independent network of associates in the U.S., Canada, Puerto Rico, Hong Kong, Australia, New Zealand, Taiwan, Mexico, Singapore, Malaysia, Colombia, Indonesia, and the United Kingdom. Isagenix is a privately owned company with headquarters in Gilbert, Arizona. For more information, visit Isagenix.com.
About the Direct Selling Association
The Direct Selling Association (DSA) is the national trade association for companies that offer entrepreneurial opportunities to independent sellers to market and sell products and services, typically outside of a fixed retail establishment. More than 20 million Americans are involved in direct selling in every state, congressional district, and community in the United States. For more information, visit dsa.org.